Tesla Inc was founded in the year 2003 by  Martin Eberhard and Marc Tarpenning whereas company also recognizes Elon Musk, JB Straubel, and Ian Wright as co-founders.
Barely a decade old, Tesla is already gigantic and adored. Its market capitalization hovers around $28 billion. Morgan Stanley calls it "the world's most important car company,"
Founders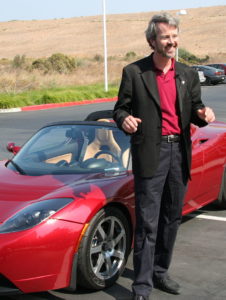 Martin Eberhard before Co-Founding Tesla was an Electrical Engineer at Wyse Technology, he also Co-Founded Startup's  Network Computing Devices, Inc. and NuvoMedia that created one of the first e-book readers, the Rocket eBook.
Marc Tarpenning is an Engineer and Entrepreneur, before starting Tesla he was working for  Textron in Saudi Arabia and he was also co-founder of NuvoMedia along with Martin Eberhard.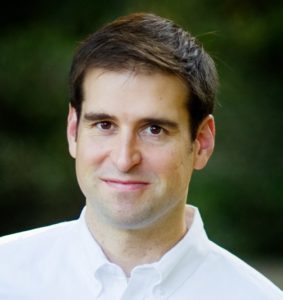 Jeffrey Brian Straubel once named to the MIT Technology Review TR35 as one of the top 35 innovators in the world under the age of 35.
Prior to Tesla, Straubel was the CTO and co-founder of Volacom along with Harold Rosen. Volacom worked closely with Burt Rutan at Scaled Composites to design a specialized high-altitude aircraft platform using a novel hydrogen-powered electric power plant.
Ian Wright, the founder of Wrightspeed, is a serial entrepreneur with an electrical engineering background he co-founded Tesla Motors in 2003 and Altamar. He left Tesla when it was still a startup.
Elon Musk, there are gonna very few people who don't know him, he is also known as Real Life Iron Man. Elon Musk is a South African born American, he is the face of Tesla. He has made Tesla flourish where others have flopped. Before Tesla, he founded many companies and was a part of the PayPal Mafia. He also owns SpaceX alongside Tesla and many other companies.
The Origin of Tesla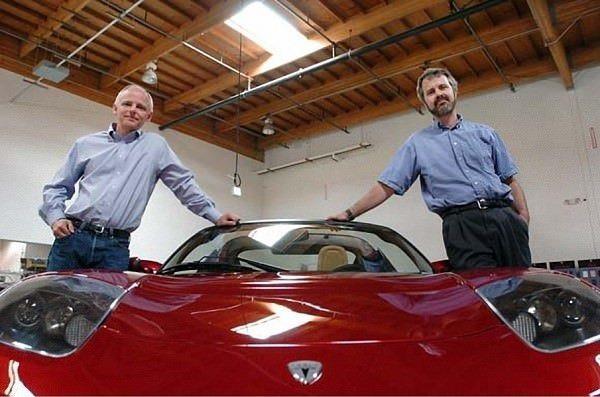 in 1990, Interest in Electric Vehicles was increased in California as a response to California Pollution Regulation. Many companies like Toyota, Honda, Ford, Nissan, GM and Chrysler, all introduced EV's to stay plugged into California massive auto market. But all these efforts ended, unfortunately.
Particularly GM's EV1 from this infamous era were repossessed and crushed by the company.
This is the time when DotBubble was at its peaks, two Silicon Valley Engineers named Martin Eberhard and Marc Tarpenning sells their eBook reading business for $187 Millions in 2000.
Upon seeing the demise of GM EV1 in the year 2003, both the entrepreneurs were inspired to reduce the world's reliance on Middle Eastern Oil as well as to help combat climate change. They both were looking at options such as hydrogen and electric cars.
In the year 2003, the two Entrepreneurs went on to found Tesla Motors.
Funding of Tesla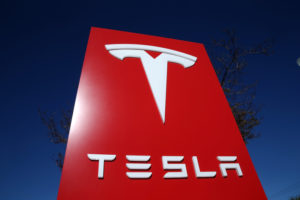 The company was funded by its co-founder before its series A funding. $7.5 million Series A funding for Tesla was lead by Elon Musk in February 2004 and become the controlling investor and Chairman.
JB Straubel becomes CTO and Ian Wright becomes Tesla's first employee.
The second Series B funding of $13 Million was lead by Valor Equity Partners in February 2005.
Tesla Series C funding of $40 Million was led by VantagePoint Capital in May 2006.
Series D funding of $45 Million was led by Technology Venture in May 2007.
Series E funding of $40 Million was led by The Westley Group on Feb 08 2008, and another Series E funding of $50 Million was led by  Daimler on May 19, 2009.
Series F funding of $82 Million was led by Daimler and Aabar Investments on Sep 19, 2009.
[youtube https://www.youtube.com/watch?v=VFeDAt_4A7A]
Tesla IPO Launch
On June 29, 2010, Tesla Motors Incorporated launched its IPO on the Nasdaq exchange. It offered 13.3 million shares at a price of $17 per share, raising a total of $226.1 million.
The Growth of Tesla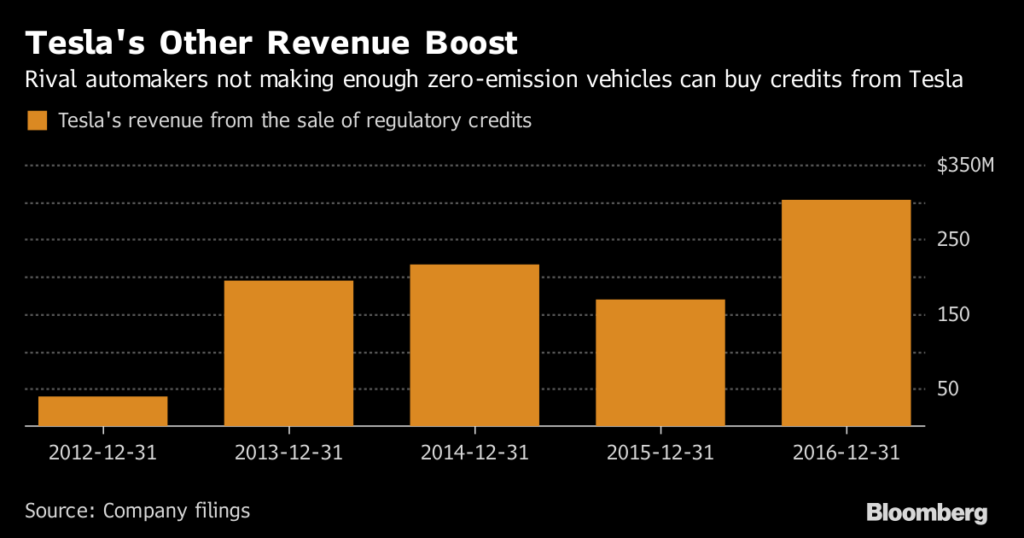 Tesla's first model Tesla Roadster wasn't making much in sales and company was loosing but in 2008 they started to see the increase in the electric car firm's sales jumped to $111.9 million the following year, which marked a 661% surge. This massive growth can be attributed, in part, to the introduction of the original Model S in March 2009.
Tesla then went public in the summer of 2010. At the time, Musk wasn't even the chief executive and Tesla had already lost a total of $260 million since its founding in 2003. Yet, in Tesla's first full-year as a public company, it reported sales of $204 million in 2011. This marked a strong 75% growth from its IPO year when it made $116.7 million.
But it was Q4 of the year 2012 when the Tesla's real story of current growth started. Tesla went on to deliver 2400 Model S in the quarter and 2650 for the year. Tesla Q4 revenues went skyrocket with 500% increase which pushed year sale to $413 million.
After one year Tesla became Multi-Billion Dollar a year electric automaker that went on to sell a record 6892 Model S in Q4 2013.
Tesla's full-year revenues then climbed by roughly $1 billion a year over the next two years, with sales reaching $4.05 billion by 2015. The company's revenues then surged to $7 billion in 2016, marking roughly 72% growth.
Last year, Tesla sold a total of more than 100,000 Model S sedans and Model X SUVs, which marked a 33% increase from the year earlier. This jump in vehicle sales helped Tesla post total revenues of $11.76 billion in 2017.
Tesla Failing?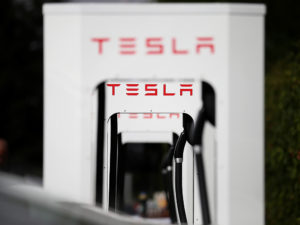 The Tesla First production unit car made its debut at a star-studded launch party at Santa Monica. The 350 strong guest list of Hollywood celebrities and the press are wowed by the Tesla Roadster.
This is not your Father's Electirc  Car – Washington Post

[Tesla] is making a model that is very specialized, very expensive and very very fast – The New York Times

Tesla Roadster
Pic Credits- Tesla

[youtube https://www.youtube.com/watch?v=Mc8aOgUI-6Y]
Tesla Roadster Launch on  July 19, 2006
But what the people didn't notice that Roadster had many issues that needed to be fixed, which would eventually lead to delay well beyond the planned delivery date of Summer 2007.
Tesla went on to make a partnership with Lotus in which they would use the body of Lotus car but fit in there Electric Engine. This was supposed to make it easy for Tesla to get a foot in the door, to focus on the EV aspect of the car and let Lotus do the rest.
But on the request of Elon Musk, Tesla wanted to do some customization to the car, the cost was going out of control for Tesla and by the time it was done Roadster was nothing like its Lotus cousin, in fact, they had only 7% parts that were same.
During this process, Tesla kept on Changing Ceo's
2007 Eberhard is forced to resign as CEO
2007 Early Tesla Investor Micheal Marks becomes temporary CEO
2007 November, Ze'ev Drori becomes CEO and President
2008 October, After less than a year of Drori run as CEO, Musk steps in to take over the role.
At this point, Musk has invested $55 Million in the company and narrowly escaped Bankruptcy. Between March 2008 and April 2009 tesla recalled 75% of Roadster produced. The workforce was cut by 25%.
Tesla Back
In 2010 Tesla went Public and became the first US automobile company to go public after Ford in 1956.
By going Public Tesla raised $226 Million. After going all in on Roadster now Tesla was focused on the next step of Tesla Strategy.

Tesla Phase 2 Strategy
Step 1- Sell a low volume of Sportscars, which would necessarily be expensive
Step 2- Use that money to build a more affordable car
Step 3- Use that money to build the car for masses
Step 4- Target other consumer segments
Target Other Transport segment, like a mini truck
Integrated energy Generation and Storage in the Home
Shared, autonomous vehicles
Tesla announces 2 new cars Model S( A full-size luxury car) and Model X( A full-size luxury crossover SUV)
In 2012, Model S hits the road and the rest is history, selling over 200,000 units, this became the most successful Electric Vehicle in Automobile history.
In 2013, The Giga Factory Plan is revealed with an attempt to make Lithium-Oin Batteries affordable and economical.
In 2013, Tesla Market cap was $22.4 Billion, seeing a growth $18 billion in a year.
In 2014, It releases autopilot for Model S
221 Superchargers Station have been installed
Tesla goes open source releases all its patent for anyone to use.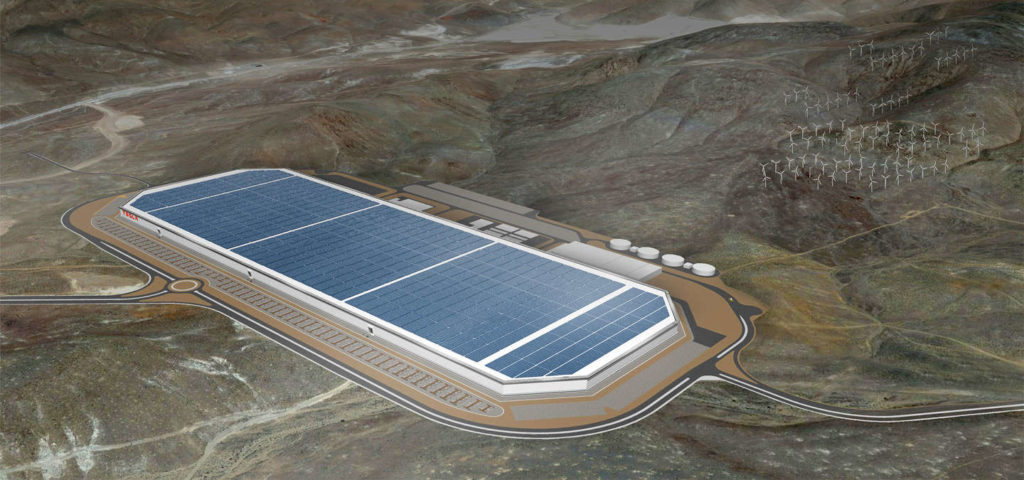 In 2017, Tesla Giga Factory 1 starts production
Tesla Semi Truck is unveiled
Tesla Model 3 deliveries begin
Tesla also unveils the all-new Tesla Roadster
Controversies
During there 15 Year Tesla has been part of many controversies from the founder's dispute to there recent Lawsuit alleging sabotage
Founders Dispute
On May 26, 2009, Eberhard filed suit against Tesla and Musk for slander, libel, and breach of contract. Musk wrote a lengthy blog post that included original source documents, including emails between senior executives and other artifacts attempting to demonstrate that Eberhard was fired by Tesla's unanimous board of directors. A judge struck down Eberhard's claim that he was one of only two company founders. Tesla said in a statement that the ruling is "consistent with Tesla's belief in a team of founders, including the company's current CEO and Product Architect Elon Musk, and Chief Technology Officer JB Straubel, who were both fundamental to the creation of Tesla from inception." Eberhard withdrew the case and the parties reached a final settlement. One public provision said that the parties will consider Eberhard, Musk, Straubel, Tarpenning, and Wright to be the five co-founders. Eberhard issued a statement about Musk's foundational role in the company: "As a co-founder of the company, Elon's contributions to Tesla have been extraordinary."
Top Gear Review
Tesla unsuccessfully sued British television show Top Gear for its 2008 review of the Tesla Roadster (2008) in which Jeremy Clarkson could be seen driving one around the Top Gear test track, complaining about a range of only 55 mi (89 km) (a figure that was provided to Top Gear by Tesla itself), before showing workers pushing it into the garage, supposedly out of charge. Tesla filed a lawsuit against the BBC for libel and malicious falsehood, claiming that two cars were provided and that at any point, at least one was ready to drive. In addition, Tesla said that neither car ever dropped below 25% charge and that the scene was staged. The High Court in London rejected Tesla's libel claim. The falsehood claims were later struck out. 
Singapore Tax Surcharge
In early March 2016, a report by Stuff magazine said that test performed by VICOM, Ltd on behalf of Singapore's Land Transport Authority had found a 2014 Tesla Model S to be consuming 444 Wh/km (0.715 kW⋅h/mi), which was greater than the 236 watt-hours per kilometre (0.38 kW⋅h/mi) reported by the U.S Environmental Protection Agency (EPA) and the 181 watt-hours per kilometre (0.291 kW⋅h/mi) reported by Tesla. As a result, a carbon surcharge of S$15,000 (US$10,900 at March 2016 exchange rate) was imposed on the Model S, making Singapore the only country in the world to impose an environmental surcharge on a fully electric car.
Lawsuit alleging sabotage
On June 20, 2018, Tesla filed a civil lawsuit in Nevada against a former Tesla employee, who a few days before had been dismissed after allegedly confessing to hacking Tesla's Manufacturing Operating System and to transferring gigabytes of confidential, proprietary data to external, unknown entities. By June 27, Tesla had been granted subpoenas compelling several companies that may be storing data for the former employee, including Apple, Microsoft, Google, Facebook and Dropbox to surrender any such data. The ex-employee has reacted by attempting to crowd-fund US$500,000 for his legal defense and counter-suit.
Tesla's Vision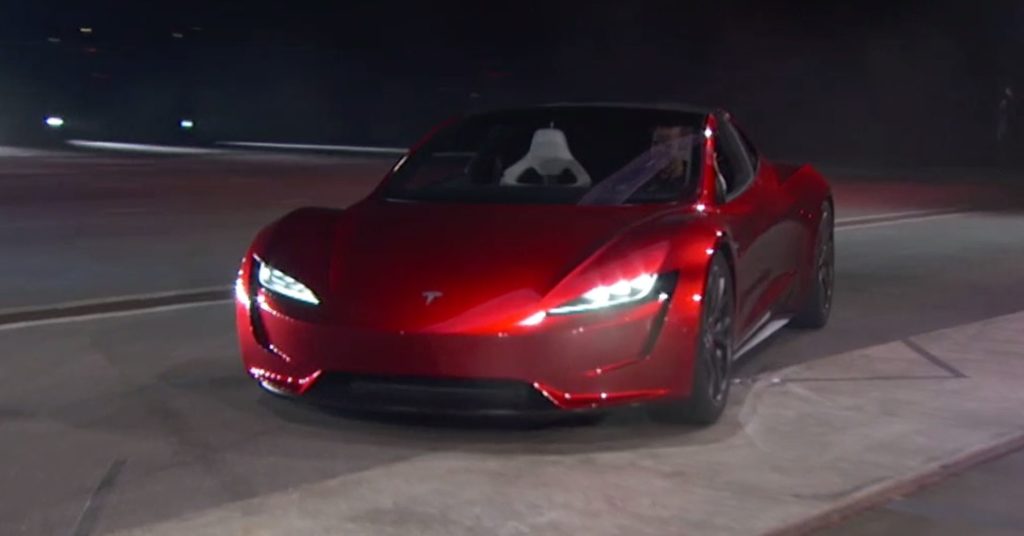 To understand Tesla's future vision we need to understand two things
To accelerate the world's transition to sustainable energy.
The Competitive strength of the Tesla's long-term is not going to be the car, it's going to be the factory.
In other words, Tesla wants to perfect building the machine which builds the machine.
[youtube https://www.youtube.com/watch?v=5n9xafjynJA]
                Tesla Event in November 2017(Credits- Tesla/The Verge).
Other New Models
The Model Y – Crossover Built on Model 3 Platform
Tesla PickUp Truck
Ultra Low-Cost model car which will be cheaper than Model 3
[youtube https://www.youtube.com/watch?v=qk6qxprCuGY]
SpaceX launching Tesla Roadster in Space(Credits- KPIX CBS SF Bay Area)
Tesla also wants to open multiple Giga Factories, currently, they have 2
Giga Factory 1(Reno, NV)
Giga Factory 2(Buffalo, NY)
[youtube https://www.youtube.com/watch?v=HhbqojIL2wM]
Tesla Giga Factory (Credits- Duncan Sinfield)
Tesla wants their cars to be Fully automatic or self-driving and they want shared cars which can be shared between multiple users by its self-driving technology.