As start up founders we are always looking for a right place to run our company. Our homes soon become too comfortable , a little uninspiring and  boring. We are usually too few people to buy an office and soon the local coffee shop becomes our temporary working space. However the loud music, endless spend on coffee and other distractions make the coffee shop a not so attractive work space. The Mesh – Pune's first coworking space now solves this problem for startups.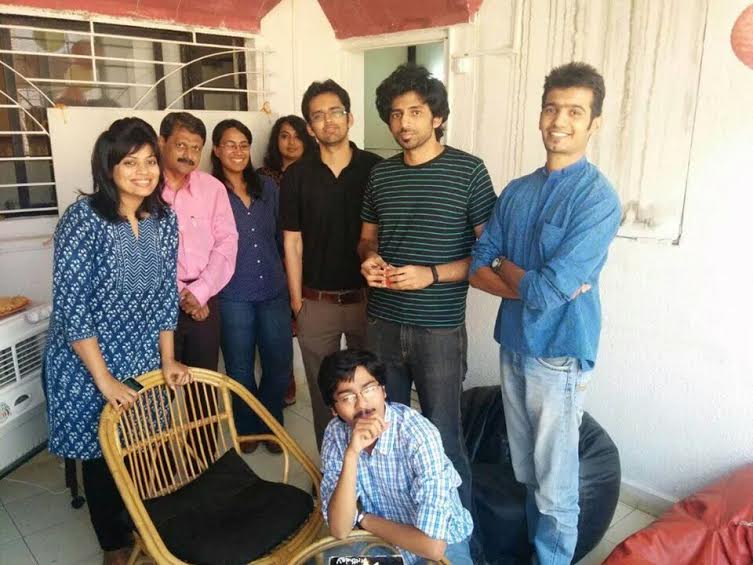 Centrally located in Pune, The Mesh started operating in September 2014 . The space  which has a capacity of seating 25 people was filled up within 20 days of opening.All entrepreneurs need to do is get their team with their workstations and all operational headaches are taken care of by The Mesh. The Mesh provides entrepreneurs with space, food, endless amount of internet and tea and a sweet little puppy as a stress buster. Other facilities such as printers, scanner and even free gym memberships are available to the members of The Mesh.Entrepreneurs are allowed to work any number of hours , anytime food facilities, conference rooms for meetings are made available and all this comes at a very nominal cost.
The Mesh was started by Deepti Kasbekar. While working with a startup, Deepti had met a french lady who was running a similar place out of Bangalore at one of the Bangalore meetups . Later when Deepti started working independently from this 1200 sq feet space the idea of starting The Mesh came to her mind. That is how this startup village was born. Kaushik Bhagwat is the 'Chief Mesh Maker' at The Mesh and takes care of all the operational aspects. Deepti is a copywriter by profession and met Kaushik when they were working together in their previous organisation. The Mesh is more of a family run business where Deepti's cousin Viswajit Dilip , helps Deepti out with operational stuff, her mother, an ex entrepreneur takes care of housekeeping and staff, and her uncle, a senior official at the Bombay port trust and a former scouts master helps them set up easy infrastructure that is quite creative.
The energy at The Mesh is contagious.The Mesh has gained a considerable amount of attention only within a few days of starting up. It is slowly becoming a network powerhouse where startup founders are meeting each day to exchange ideas and to help each other out . The Mesh is slowly but surely building a community space where all the ingredients necessary for startups to grow and flourish are being made available.Going forward Deepti plans on creating many such 'Mesh' within the Pune city and then expand to more places within the country. The idea is to create a mutually beneficial community of the startups by the startups for the startups.
Come February 1st  The Mesh will have a new wing, ready and eager to welcome start ups, freelancers and artist to add their skills and values to the community. Bookings can be taken on their Facebook Page and The Mesh will soon launch their own site. The Mesh is continuously working towards  hosting better events, have forums , discussions and interactions – all this while  having a lot of fun!
Few testimonials from the  Meshiahs (startups working from The Mesh) below:-
"We spent a year in the Silicon Valley where we started EdWave following which, we moved back to India for business reasons. Prior to this, I spent 5 years in a bank in Singapore. I never wanted to work in a corporate environment like that again. We scoured Pune for co-working office spaces that would not take me back to my banking days and was closer to my silicon valley experience. We struck gold when we found The Mesh. Unlike a corporate environment, it is fun enough to feel 'at home' with great company and yet, unlike a home, it is vibrant enough to keep you motivated and cheerful all day to get your work done." – Cofounders Bharadwaj Krishnan and Karthik Sridhar
Quinto –
 "The Mesh has turned out to be a nice experience and environment than just two seats. In just a short period of two months, it's a place where we work, connect with amazing people, help each other, have fun events and workshops, and at times, everyone just steps out for a drink."  – CoFounder Sahil Khan
StoreKey – 
"The Mesh is a great place for startups to meet other startups– to feel inspired and supported by other people going through similar successes and hurdles. It's a great place to meet people of diverse backgrounds who continuously push you to view your own business from different perspectives and to constantly evolve. 
Start-ups can by their very nature be very isolating and The Mesh is a great place for camaraderie and friendships . It makes the everyday of startup life fun! " – Founder, Preeti Vasudevan
 "I had to move to Pune a couple of months ago as Krishi Star works with a lot of NGOs and Institutional bodies in the agriculture space, which operate from the city. While I was working from home, my productivity went down and I missed company of people with whom I can discuss work, hangout and just de-stress! I call Mesh a "Messiah" cause it saved me from my drudgery 🙂 I am excited to come to work everyday and co-workers are now beloved friends, who eat drink and work together! Mesh is my second home " –  GM Marketing , Reema Sathe
Comments
comments