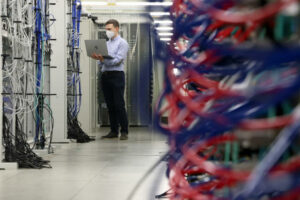 On Monday, February 28, Ukraine came up with an official plea to two international organisations. These bodies are in charge of the management of internet resources and the plea was to throw Russia off the the internet. A couple of Ukrainian officials wrote an official email to the representatives of Internet Corporation for Assigned Names and Number (ICANN) and  to Réseaux IP Européens Network Coordination(RIPE NCC). The email was directed at asking them to fulfil their part to stop Russia from spreading such propaganda.
Russia has been constantly generating propaganda with the agenda to disinform and spread negativity in form of hate speech and violence. The email further mentioned how Russia had been covering up the truth about the invasion and launched attack on the IT infrastructure of Ukraine. These actions led to "atrocious crimes' affecting civilians, and the ability of both the government and the citizens to communicate.
Ukraine representative in ICANN, Andrii Nabok wrote the email, which was signed by the deputy prime minister and digital transformation minister, Mykhailo Fedorov.
"I'm sending you this letter on behalf of the people of Ukraine, asking you to address an urgent need to introduce strict sanctions against the Russian Federation in the field of DNS regulation, in response to its acts of aggression towards Ukraine and its citizens," wrote Andrii Nabok.
Fedorov, along with Nabok suggested a series of sanctions that would restrict Russia's access to the internet. They pleaded to ICANN to disable the domains ".ru", ".рф" and ".su", and turn off root servers in cities like Moscow and St.Petersburg. They made the request to RIPE NCC to remove root servers in Russia. RIPE NCC handles the regional registry for the internet in the entire continent of Europe. They, however, rejected this requested in a response stating that political or international disputes should not affect communications. ICANN is still yet to respond to Ukraine's request and has not commented on the situation when approached.
Despite Ukraine's request, many experts advise against the removal of internet in Russia. The executive director of Packet Clearing House, Bill Woodlock explained that removing Russia from the internet would give rise to other issues such inaccessibility to Russian sites from around the world. Shutting down of the root servers could deprive Russians of good internet connection, which would affect civilians more.
Russia had previously disabled internet services last June and July in order to test its defences against cyber warfare. This suggestion from Ukraine could highlight Russian civilians's risk of getting involved in man-in-the-middle attacks. Such attacks include compromising the users' banking details and website passwords. These citizens would eventually be cut off from international news and opinions. Meddling with Russia's internet domain could result in other industries getting involved in international conflicts.