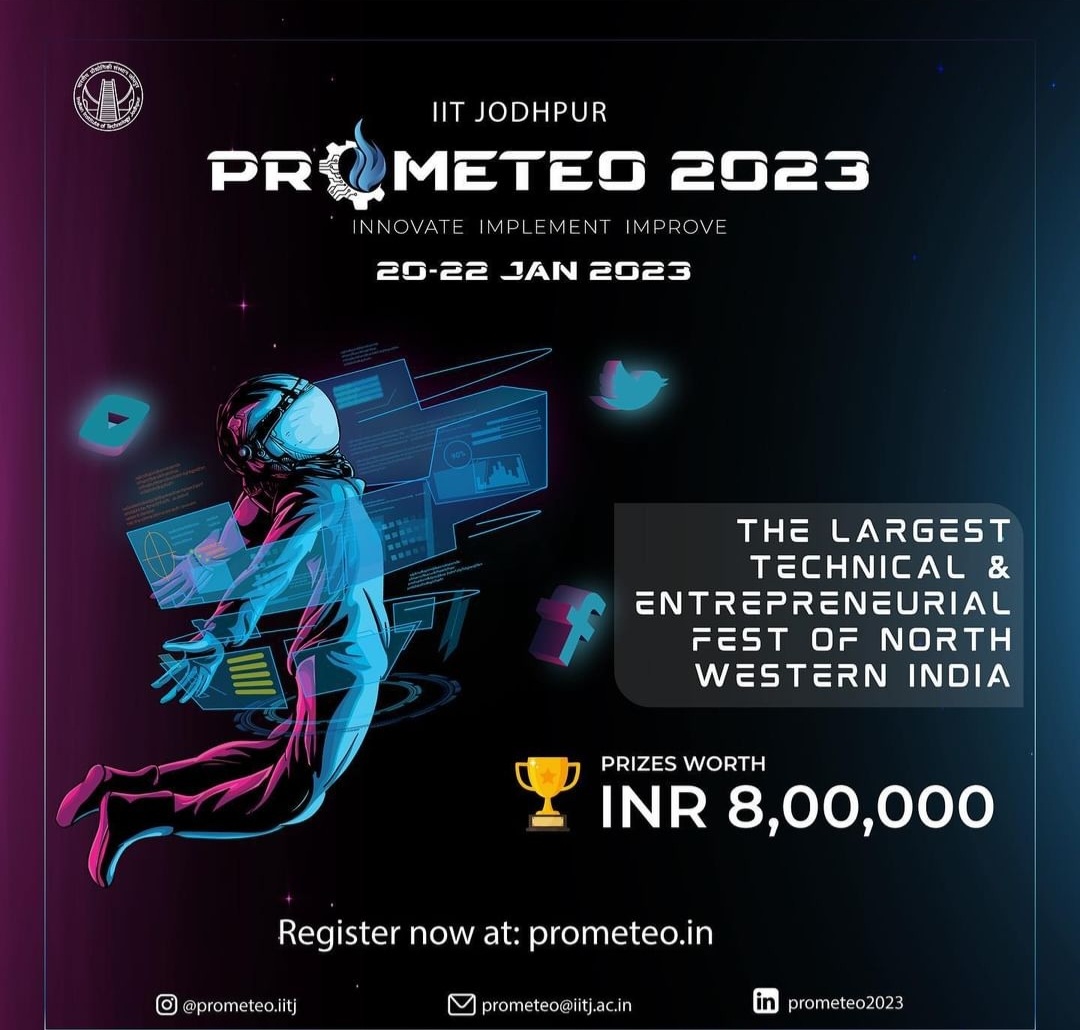 With the beginning of this new year, the Indian Institute of Technology, Jodhpur, is back with its third edition of the technical-entrepreneurial festival – Prometeo'23, which is scheduled from 20th January to 22nd January 2023. 
Indian Institute of Technology Jodhpur was founded in 2008 to advance technology, education, and research in India. The Institute is dedicated to pursuing technological improvement as part of India's economic growth.
Prometo primarily serves as a stage for young, brilliant minds. Still, it also serves as a forum for India's leading researchers, most influential companies, and startups to promote their concepts and innovations through exhibitions.
Prometeo'23 is the third edition of the National Technical and Entrepreneurial Festival conducted by IIT Jodhpur. The faculty and students of the Indian Institute of Technology Jodhpur organize it.
It is one of the most critical events, drawing more than 3000 attendees yearly from more than 450 universities. Tech enthusiasts, innovative thinkers, and brilliant minds from around India attend, demonstrate their abilities in an array of disciplines, and get the opportunity to network with the most well-known and influential individuals in a diverse range of technological and innovative fields.
Prometeo derives its name from the Greek forethinker and promotes disruptive technology through competitions, workshops, and various exhibits.
The Theme for this year has been decided as "Origin to Infinity":
The way we live has evolved significantly since the creation of the cosmos, the construction of the earth, and the beginning of life on our planet. Innovations and technology have played a significant role. Big data, Data analytics, Robotics, Artificial Intelligence, Machine Learning, Blockchain, Network Theory,  Immersive reality, AR/VR, and Metaverse are some of the technical fields that are being used or explored in the present day. These fields have also started to make plans for the future, such as Space Colonization. Using these technological developments, we hope to foster sustainability while resolving practical issues.
With many technical, entrepreneurial, and exhibition events planned out, the student community at IIT Jodhpur is looking forward to hosting a memorable event and drawing inspiration from the entrepreneurs and technical gurus across the nation and passing on their experiences and teachings to the newer generations.
Among the many events and competitions planned out, some prominent ones are Robosoccer, Drone Racing, Business Darbars, Pitch IT!, Hackathons, Scavenger Hunts, B-Plans, Bulls vs. Bears, CADastra, Tech and Biz Quizzes, Game Jams, Crypto Trading Challenge, Capture the Flag, Competitive Programming, AR/VR gaming, Poster Presentations, Innovation Challenges and many more.
These events and competitions bring prizes ranging up to 80k and 1L INR in amount to motivate and drive the young blood to work in their respective field towards excellence.
And thus, Prometeo'23 invites you to an exquisite journey from our origin to infinity. Prometeo aspires to promote moonshot competitions and projects that can eventually lead to large-scale solutions to improve health, societal, economic, and environmental issues. Join them in this exploration of the beyond.