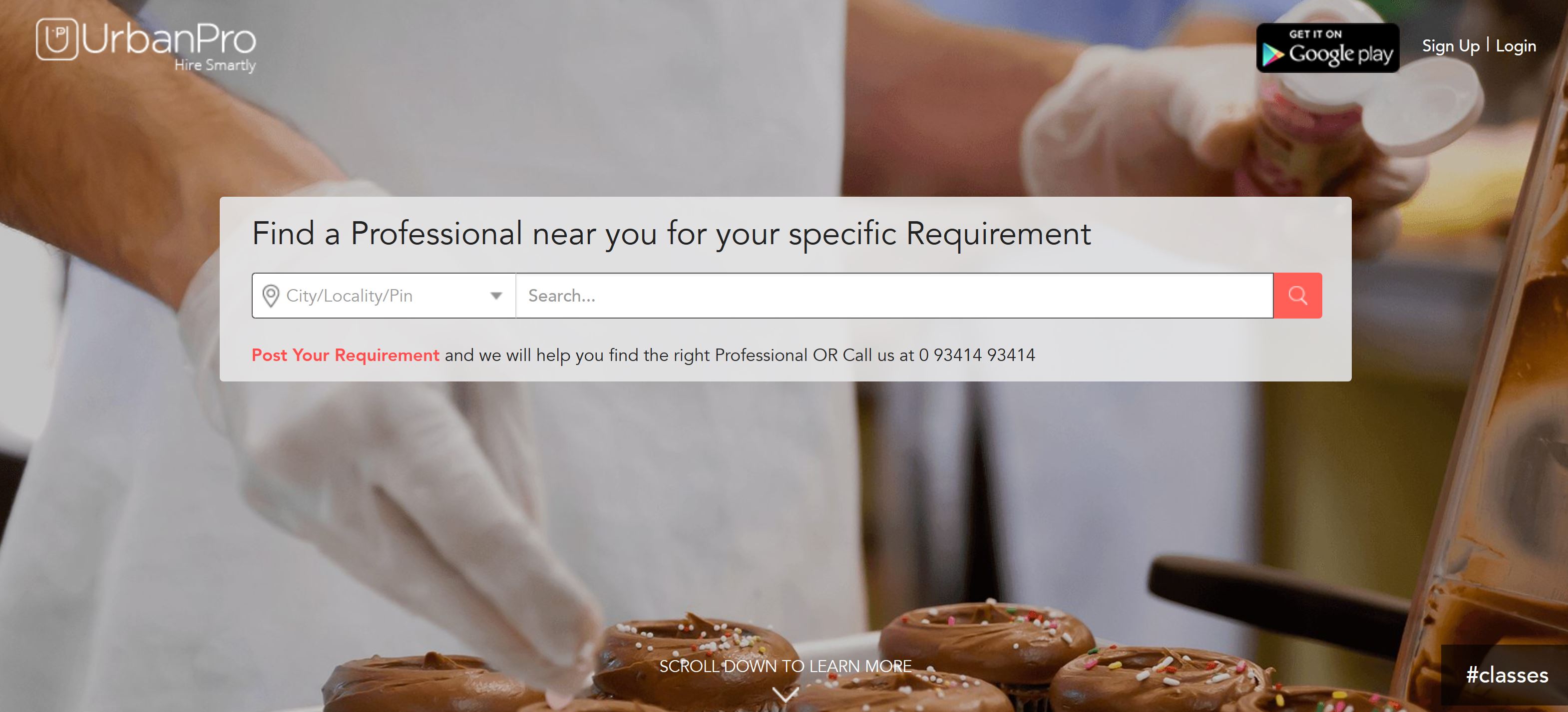 UrbanPro is a leading online marketplace that connects professionals and consumers across a variety of categories.
UrbanPro currently has more than 3 lakh professionals & 5 lakh consumers across 3000 categories
National, 26th May, 2015: UrbanPro.com, India's leading online marketplace for local services has raised $2 million (Rs 12 crore)from Nirvana Ventures. The funding will aid in significantly improving the product and aggressively expanding the service to additional verticals and cities.  UrbanPro, previously known as ThinkVidya, had earlier raised an undisclosed sum of funding in January 2014 from Mr. Raman Sud, a US based serial entrepreneur.
UrbanPro already has a presence in top cities in India including Bangalore, Mumbai, Delhi NCR, Hyderabad, Pune and Chennai in the education vertical. UrbanPro recently announced that they will also be entering new verticals such as Event planning, Health & Fitness and Photography. The expansion plan also includes greater focus on mobile product and hiring manpower across product, technology, sales, marketing and operations to significantly scale the offering.
With more than 3 lakh professionals, 5 lakh consumers and over 1 million visits a month, UrbanPro aims at connecting consumers with professionals across a variety of verticals and is fast becoming India's largest online marketplace for local services. Consumers can post their requirements on UrbanPro in less than a minute and connect with professionals across categories to meet their specific requirements, whereas professionals can showcase their skills by creating their profile and get hired.
"UrbanPro's mission is to help people hire smartly. We believe that our service is going to become integral part of life, and we are all working very hard to make that a seamless and rewarding experience.  This funding is a great vote of confidence to our vision and stands as testimony on how the hyperlocal category is poised for a very dynamic period in India." says Rakesh Kalra, Founder and CEO of UrbanPro.com.
"UrbanPro's depth in the Education vertical, a highly experienced team and the ability of the product and monetization model to scale across verticals & cities is what got us excited. With nearly half of the traffic on mobile, the company has a huge potential to ride the mobile internet wave in India." says Mr. Rajan Mehra, Managing Director at Nirvana Venture Advisors.
"Rakesh's ability to get a strong team together, and drive the company to fulfill its mission are the key reasons of my association with UrbanPro.com. I am very excited to have witnessed UrbanPro's rapid growth and equally excited about getting Nirvana Ventures on board." says Mr. Raman Sud, existing investor in UrbanPro.
UrbanPro.com is India's #1 online marketplace for hiring Service Professionals. Our mission is to help you Hire Smartly.
On UrbanPro.com, consumers can find skilled service professionals that meet their requirements within their budget and locality. Service professionals on the other hand can get hired for the services they provide for the price that works for them and grow their earnings. With a presence in top cities across India, UrbanPro.com strives to be the go-to marketplace playing a key role in our society for connecting consumers with the right professionals.
Having delighted students, parents and teachers in education, UrbanPro.com decided to further service the consumers by launching additional local services beyond education. While UrbanPro.com will continue to grow its education vertical significantly, it is now spreading out its wings and expanding into other categories like Health & Wellness, Photography and Event services. The company has plush new android apps, one each for Consumers and Professionals.
With a new requirement posted every minute, UrbanPro.com is well positioned to service a variety of local service needs in India!
Comments
comments