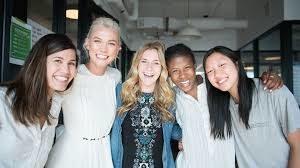 Karlie Kloss is a world-renowned supermodel, YouTuber, and influencer. She has been walking the ramps of multiple fashion weeks since the age of 16. She is the face of high fashion brands like Estee Lauder and has graced every fashion milestone possible – from gracing the Met Ball multiple times to being on the cover of Vogue even more than that. But, why are we talking about a supermodel in a technological publication? It is because Kloss, apart from juggling multiple fashion avenues at once, is also a part of another big, tech-related venture – coding.
BACKGROUND
Karlie Kloss's journey with coding began when she first started off at a coding class in Flatiron School in New York, about four years ago. She pursued it purely out of interest and began to learn the basics of Ruby on Rails. Being a public figure, this stint of her garnered a lot of attention and Kloss clarified that she was pursuing this purely out of interest and curiosity. Turns out that a year of learning to code, Kloss was still dissatisfied but not with her skills or her coaching or anything related to her personal coding journey. She was dissatisfied with the space of women in the circuit of tech and coding in general. And why wouldn't she be? Women on an average make up just
30% of the workers in tech
. Now, when you see 30%, it doesn't sound bad. But that's an average; some companies have workers that is way less than 30%. For example, in Microsoft, in 2015, only 2.9% of women made up the workforce. These numbers further dwindle when we consider women in positions of command or leadership. For example, Google has 79% of men in leadership positions while Twitter has 83%. These are not just coincidences where men just happen to be more competent. These are majority numbers that run in the favor of men and are imperative to start a conversation about how inaccessible certain areas have been made to women. With the intent to create a disruption in this space is where Karlie Kloss comes in, along with
Kode with
Klossy
.
WHAT IS KODE WITH KLOSSY
About a year after Kloss started her coding journey, she decided to give women in tech a more equitable space by sponsoring select female students through their coding courses in the school in which she studied in New York. Soon after this, Kloss started Kode with Klossy in 2015, in order to give women a better access to learn to code and create more holistic tech spaces. And she made this service available specifically to adolescent women who were on the cusp of entering college or choosing a career. These were essentially coding camps run for women between 13-18 years of age to foster more technology-based opportunities for them. In these camps, the students learn app coding, programming languages, foundational software principles, and more. But there's more. These camps are free. They work on a scholarship basis where applicants from around the United States can apply and approximately 2 women get selected to pursue the camp. These camps now run in over 25 cities hosting around 5 camps.
WHY IS IT IMPORTANT
On the Kode With Klossy website, there is a message from Karlie Kloss that essentially encompasses the need for such ventures-
"Before my first coding class, the idea that I could build something with code seemed nearly impossible, but after only a couple of courses, I was working with my classmates to program a small drone. I realized that, just like art and fashion, code is about creativity, and that women who have these skills have the power to shape our future – and often have. Women are essential in forging digital progress and knowing how to code is the key to exploring and creating the newest frontier."
This initiative works on two levels- Firstly, in Kloss's favor and in debunking myths about models on a larger level. Women don't just have to be objects of beauty or stuck behind textbooks; they can be both. The industry is still coming to terms with that fact. The second part is that this is finally building bridges for women. It is a real fight and struggles for women when they are in the tech industry. So much so that large corps like Intel are now dedicating serious money to initiatives towards building a more equal workforce. Apple is doing the same. This is actionable initiative. Kode with Klossy is one step of many. But, the reason it deserves the credit is because of its philanthropic nature and also for the fact that it was initiated by a female public figure, who was also a model. It is redefining gender structures and challenging the norms that favor men since kingdom come.