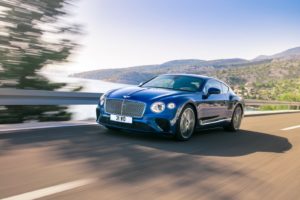 Luxury carmaker Bentley's CEO, Adrian Hallmark has openly stated that they will never make a sports car. Though this statement hasn't pleased or upset anyone, it is a big statement to make for such a big brand.
In an interview given to Autocar, Hallmark talked on different issues including Hybrid cars and fully electric models too. Bentley has already announced that all of their models will have hybrid versions by 2025. "If you'd asked five years ago, I'd have said people don't want hybrids," he told Autocar. "They're margin killers for manufacturers and a partial solution most people don't appreciate, apart from some tax benefits."
The Bentley Boss also praised their cousin brand Porsche for getting the hybrid game right. "Some brands like Porsche have been able to position their hybrids as the best version of a model to own. Fun and efficient at the same time – the Panamera is an example. They've cracked the code. We need to do it, too." he said.
Apart from the hybrids, the British luxury brand will also look for fully Battery Electric Vehicles (BEV) but they aren't coming out anytime soon. As Hallmark says they must be done right to suit Bentley Buyers.
When asked about their new possible models, Hallmark said, "I won't talk about our decisions on future models, but I'll tell you what we won't be building, and that's sports car." He stated various statistics that suggest that the sports car segment isn't gaining new buyers and the same old enthusiasts keep buying a new sports car. The young generation is instead turning to luxury SUVs.