A recent study reveals that individuals who work from home exclusively generate less than half the greenhouse gas emissions compared to their office-working counterparts. In the United States, employees who opted for full-time remote work were projected to decrease their emissions by 54% in contrast to office workers. However, those following a hybrid work model showed a less significant reduction in emissions, as per research published in the Proceedings of the National Academy of Sciences.
The study indicated that working remotely for one day per week resulted in only a 2% reduction in emissions. The energy savings from not being in the office were offset by factors like increased non-commuting travel while working from home. On the other hand, remote work for two or four days a week led to a reduction in an individual's emissions by up to 29% compared to those working on-site.
The research was a collaboration between Cornell University and Microsoft, utilizing various datasets, including Microsoft's own employee data on commuting and teleworking habits. The goal was to predict greenhouse gas emissions for office, remote, and hybrid workers in the US, considering five emission categories, including office and residential energy usage.
Implications of Remote Work on Carbon Footprint
Interestingly, the study found that IT and communications technology had a minimal impact on an individual's work-related carbon footprint. The primary reasons for reduced emissions among remote workers were lower office energy consumption and a decrease in emissions associated with daily commuting.
The advantages of working from home extend beyond reducing emissions by alleviating rush hour traffic and thereby improving fuel efficiency. However, the authors emphasize that the implementation of remote work must be thoughtfully planned to achieve emissions reduction benefits.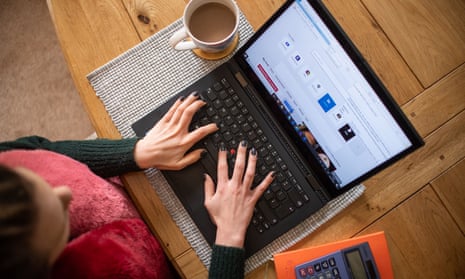 Fengqi You, a co-author from Cornell University, pointed out, "People often claim, 'I work from home, so I'm contributing to net zero emissions.' That's not entirely accurate." He added that while remote work does offer a net positive benefit, the degree of positivity requires careful consideration. People tend to increase their non-work related travel, including more driving and flying when working remotely.
The study revealed that remote workers tend to engage in more non-work travel, resulting in heightened emissions from transportation. You highlighted that homes may not always be optimized for reducing carbon emissions, considering factors such as the utilization of renewable energy and appliance efficiency. Furthermore, the study found that certain energy savings are scale-related, indicating that smaller home devices like printers may be less energy efficient compared to office-grade printers.
Work From Home and Carbon Footprint: Strategies and Considerations
The COVID-19 pandemic sparked a significant shift toward remote work for numerous office workers. Many individuals in the US and abroad chose to move away from highly populated commuting areas, closer to major cities and offices, to less densely populated rural areas. As indicated by a study, this transition might lead to increased commuting distances and a heightened carbon footprint for hybrid workers, mainly due to the rise in private vehicle usage.
The study's authors emphasized the necessity for careful consideration of various factors to truly capitalize on the potential reduction in the carbon footprint offered by remote work. These factors include commuting patterns, energy consumption in buildings, vehicle ownership, and non-commute-related travel.
However, it's important to note that the study's insights may not be directly applicable to all sectors. Occupations that require physical presence, like a bus driver, cannot be carried out remotely. Nonetheless, the study does offer valuable guidance to office-based employers seeking to minimize their company's emissions.
The researchers recommended that companies while considering each region's uniqueness, should focus on energy-efficient practices, office downsizing, and shared office spaces to mitigate their emissions. Sharing office spaces can lead to reduced capacity, smaller office sizes, and lower energy consumption.
Moreover, the study highlighted that the IT and communications sector contributed only a small fraction to the overall emissions. As a result, efforts to reduce emissions should prioritize renewables for office heating and cooling, as well as decarbonizing commuting.