During the ongoing legal dispute between Microsoft and the Federal Trade Commission (FTC) regarding the acquisition of Activision Blizzard, interesting details have come to light regarding Xbox boss Phil Spencer's historical inclinations towards significant acquisitions. These revelations include his previous expressions of interest in acquiring reputable gaming entities such as Sega, renowned for the creation of Sonic, and Square Enix, notable for the iconic Final Fantasy franchise. However, a recent revelation has added another esteemed company to this list — Nintendo.
In a disclosed email from August 2020, inadvertently made public as part of trial documentation, Spencer was seen expressing enthusiastic interest in the possibility of acquiring Nintendo, referring to it as a potential "career moment." This glimpse into Spencer's vision predates Microsoft's acquisition of ZeniMax, the parent company of Bethesda, which underscores the strategic foresight that has been a hallmark of Spencer's leadership.
Furthermore, the email also sheds light on Spencer's contemplation of acquiring other significant entities within the gaming industry. His interest extended to Valve, the proprietor of the popular gaming platform Steam, and Warner Bros.'s network of esteemed video game studios. This network encompasses notable developers like NetherRealm, known for the Mortal Kombat series, and Rocksteady, acclaimed for their work on the Batman Arkham franchise, among many other influential studios.
Exploring Strategic Collaborations and Merger Considerations
In light of these revelations, IGN, a prominent gaming and entertainment news outlet, has sought commentary from Microsoft regarding these intriguing insights into Phil Spencer's aspirations and strategic considerations in the gaming landscape.
Spencer, in the email, wrote, "Nintendo is THE prime asset for us in gaming and today gaming is our most likely path to consumer relevance. I've had numerous conversations with the LT of Nintendo about tighter collaboration and feel like if any US company would have a chance with Nintendo, we are probably in the best position."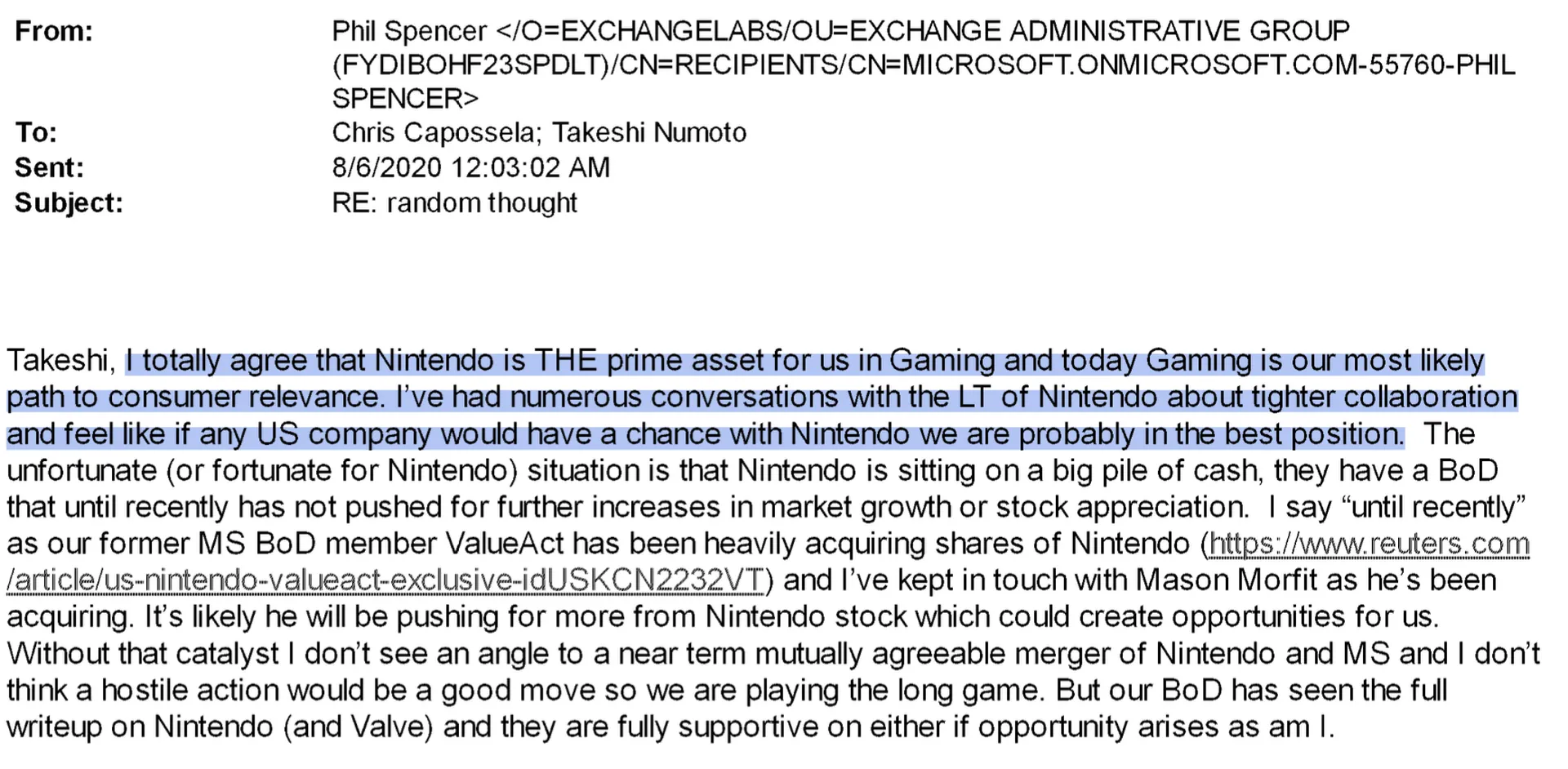 Spencer elaborated on several impediments to the envisioned merger. He highlighted Nintendo's apparent lack of interest in selling, pointing to their robust financial position and satisfaction with their current standing. He emphasized the substantial cash reserves Nintendo possessed and underscored that a hostile takeover would not be a prudent move. Instead, he advocated for a patient, long-term strategic approach.
In the discussions, Valve emerged as a potential opportunity due to its private ownership structure, with Gabe Newell, a former Microsoft employee, serving as president and holding a significant ownership stake. However, progress in this direction seemed to have stalled.
Xbox Strategy and Acquisitions in 2020: A Focus on Warner Bros. Interactive and ZeniMax
Around the time of the mentioned email in August 2020, Microsoft was actively negotiating to acquire Warner Bros. Interactive and ZeniMax. However, Spencer raised valid concerns regarding Warner Bros. Interactive, particularly the lack of ownership over crucial intellectual properties, such as those related to DC superheroes. He acknowledged that while Warner Bros. Interactive and ZeniMax were not equivalent to Nintendo, they were potential acquisition targets if the right circumstances aligned. It's known that the ZeniMax deal eventually went through a year later, amounting to $7.5 billion.
Spencer reiterated his interest in acquiring Nintendo, viewing it as a significant career-defining opportunity and a potentially mutually beneficial move for both entities. However, he recognized that it might take time for Nintendo's vision to align with the notion that their future might extend beyond their proprietary hardware.
Presently, Microsoft grapples with a notable leak regarding its Xbox plans and Bethesda's release schedule. The leak, sourced from FTC trial documents, has brought to light forthcoming mid-gen Xbox refresh plans for 2024, a next-gen hybrid Xbox expected by 2028, and more. The fallout from this leak is anticipated to reveal additional insights into Microsoft's strategies.