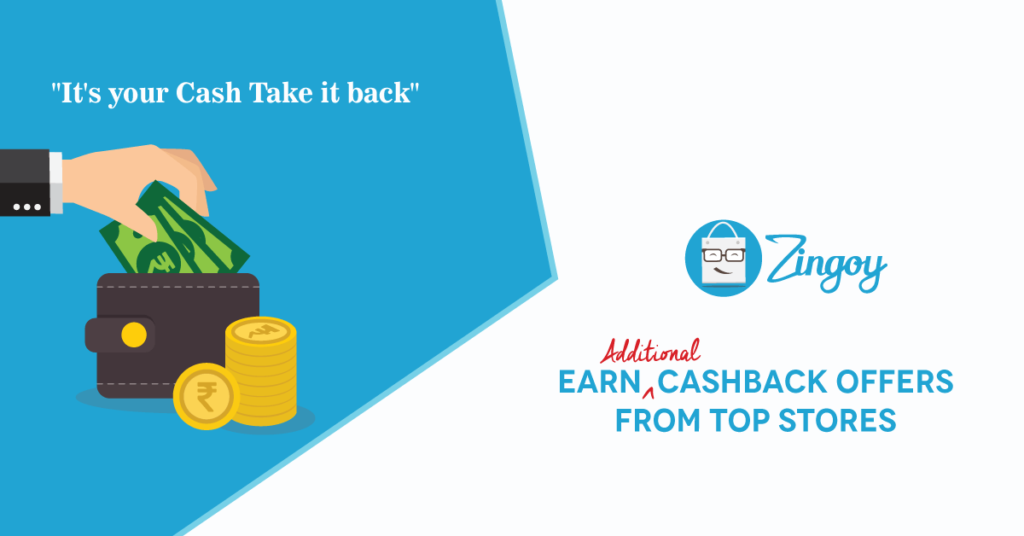 Shop via us and we give you some of your cash, back to you: that is what cashback websites like Zingoy offer.
It is the final step of bargain in the online shopping world. The last bit of saving that you can squeeze out after the flat discount, the special coupon code and the cashback on paying with your bank card/ mobile wallet.
It is the sweetest of all savings because it is actually free money that you are getting from these cashback websites. You spend Rs 500 at a store and get 7% of it back. That is like finding Rs 35 lying on a deserted street. What would you do? Pick it up, right?
Saving through cashback websites like Zingoy is as simple as that. The only thing is, wherever you go shopping, you have to take that same street always in order to find money, waiting to be picked up, on your way back.
However, you might forget taking that route every time you go shopping. You might also find it a little inconvenient: Surf through an online store, find what you like, go to the cashback site to check if there's cashback available on it. Then get your cashback link, click through it to go to the store again and complete the purchase.
Well, here's something that makes sure you never miss to take the cashback route or feel hassled with it: Zinni, Zingoy's Chrome extension, which alerts you about any Zingoy cashback offer available every time you visit an online store.
Install this extension on your browser, log in to it with your Zingoy account credentials once and forget worrying about missing any cashback forever. Now, whenever you go shopping, the Zingoy icon on the toolbar will start blinking and you will see a pop out showing you the cashback available for the store. Click on the 'Activate' button once and Zinni will automatically track your cashback for that particular store for you, forever.
Thus, if you ever get too excited with some Flipkart cashback offer or too lazy while using Paytm or Mobikwik, Zingoy's Chrome extension not only alerts you that you can earn some more cashback over the usual offers but also makes it easier for you to earn it. It is even simpler if you have the Zingoy app on your mobile phone. You can activate Zinni with a single click in the app, after which you can shop on the go from your favourite online store apps without ever missing cashback. After a couple of months, you will be surprised with how much cashback you have accumulated in your account.
New to cashback websites or not, the Zinni,  Zingoy cashback extension is definitely a great addition to a shopaholics browser.
Related Read: How To Find The Best Deals Online And Offers In 5 Simple Steps?
Comments
comments