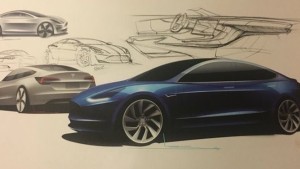 03 April 2016, USA : As of Saturday morning, Tesla Motors CEO Elon Musk announced via Twitter that Tesla Model 3 orders were at a whopping 253,000 two days after its debut.
The base price for the Model 3 is a mere $35,000—mere in comparison to the rest of the Tesla models—and tax credits for purchasing an electric vehicle can lower that price even further. But we later learned that add-on Model 3 features can potentially drive the price up to $60,000, and Musk tweeted his estimates that an average mix of features will cost about $42,000.
It can be ordered in advance in dozens of countries, including the UK, Republic of Ireland, Brazil, India, China and New Zealand.
Potential car owners need to put down $1,000 deposits to reserve their vehicles
"No one at Tesla thought it would be this high before part two of the unveil," he said.
By 1 April, when the figure was at around 200,000, Musk tweeted: "Definitely going to need to rethink production planning."
Tesla estimates it will be able to produce 500,000 of the vehicles a year once the factory is running at full capacity. However, production will take some time to ramp up, so customers may be in for a wait if pre-order numbers continue to climb.
Image : Tesla
Comments
comments