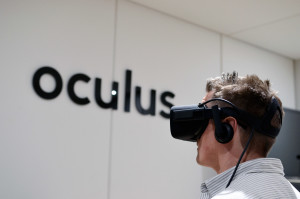 03 April 2016, USA :
Facebook acquired Oculus VR for $2 billion two years ago, and it didn't take long for concerns about privacy to provoke fear and disappointment. Now that the Oculus Rift headset is officially released to the masses and laid bare for scrutiny, it appears those apprehensions may have a bit more assurance. An eagle-eyed user spotted an "always on" background service that sends information from the virtual reality headset back to Facebook's servers. Language in Oculus Rift's privacy policy doesn't bring any comfort.
After installing the Oculus Home software on the device, a process with full system permissions called OVRServer_x64.exe detects when the device is turned on and sends data to Facebook's servers. The process sent up to 7MB/s on one Reddit user's headset, even after shutting down Oculus Home.
A careful reading of the privacy policy users consent to when they agree to the Oculus Rift's terms and conditions unearths more fodder for paranoia. One section states that "depending on how you access and use" its services, Facebook may collect information about the games, content, apps, and other experiences a user interacts with; a user's IP address and "certain device identifiers that may be unique to your device"; a device's precise location based on GPS signal, Wi-Fi networks and cellular towers; and information about a user's "physical movements and dimensions" when the headset is used.
Facebook also states "third parties may also collect information about you through the Services," notes UploadVR.
The collected information is supposed to help create accounts, enable user-to-user communication, and help improve user experience. It's also meant to help Facebook "market to you" with promotional messages and content "on and off our Services," according to the language.
Facebook's stated intentions are plain and unsurprising for the time being. If anything, all of this serves as a fair warning to expect the nascent world of VR to be inundated with ads sooner than later — just like the real world.
Source : digitaltrends.com