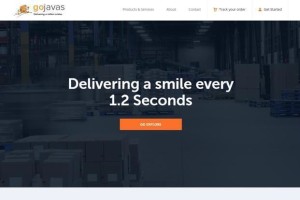 8 August 2016, India :
Logistics firm GoJavas, partially owned by online marketplace Snapdeal.com, has temporarily suspended operations, citing technical issues.
Gojavas was founded in 2013, with the vision of becoming an industry leader in providing reliable, time-bound logistics and supply-chain solutions to its business partners.
As far as temporary shutdown is concerned, GoJavas confirmed the report and said in an email statement, "GoJavas is making changes to its operational model to be more flexible and to provide additional services and extra reach. However, we have encountered an IT (information technology) issue, which has hampered this rollout.

We are working 24X7 to resolve this issue and will re-initiate load post thorough testing of our systems. All clients have been informed and are cooperating."
Snapdeal acquired GoJavas and for expansion of its logistics and supply chain network. It will gain a readymade platform which will immensely help the company attain low delivery costs while improving delivery speed at the same time.
The company was also in the news last month after a pseudonymous Twitter account holder created a controversy by circulating allegations that Jabong co-founder and former CEO Praveen Sinha made personal gains from business dealings at the fashion website, charges he has denied.