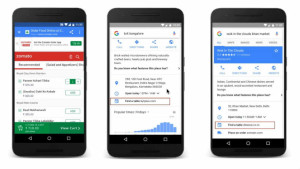 8 August 2016 :
Some updates are getting better every time and no, this is not about Pokemon Go! Google Search is getting better and functional with every new update. You can now place an order or book table online using Zomato, the recent updates added the ability to suggest the amount of time one should suggest at popular locations, to switch between English and Hindi results, and at-a-glance summaries about earthquakes.
When a user clicks on the button, he/she gets forwarded to Zomato's restaurant page; users can then select the dishes of their choice from the menu list displayed on the Zomato website, and not directly from Google search.The feature is currently live with over 11,000 restaurants across 10 cities in India: Delhi NCR, Mumbai, Bangalore, Pune, Chennai, Hyderabad, Kolkata, Ahmedabad, Jaipur, and Chandigarh.
With the latest update, Google Search will not only let you order food, but also let you book at table at your favorite restaurant, right from the search results.