12 April 2016 :
Mark Zuckerberg started off Facebook's annual F8 developer conference with a thinly veiled attack on Donald Trump.
Speaking to a packed auditorium at San Francisco's Fort Mason center, Zuckerberg said that "it takes courage to chose hope over fear" and criticized "fearful voices talking about building walls".
He added that immigration was essential to the economic success of the country.
"Instead of building walls we can help build bridges. Instead of dividing people we can connect people. We do it one person at a time, one connection at time. That's why I think the work we're doing together is more important than it has even been before," he said.
The future will also heavily feature Facebook's artificial intelligence programs, Zuckerberg said. And while the company already uses AI for photo recognition and more, the Facebook CEO said the platform will be able to achieve greater understanding of the meaning of user content.
The last element of Zuckerberg's vision for the future was virtual and augmented reality, and he highlighted the company's achievements with the Oculus technology, including the milestone of more than 2 million hours of watched video with Gear VR devices.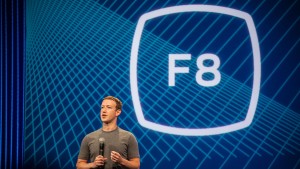 On the augmented reality front, Zuckerberg said is company is working toward "what looks like normal-looking glasses" that can overlay digital visual elements on top of the real world.
He also demonstrated an app that allowed two people to play together virtually, and said that in late 2016 Oculus, the Facebook-owned VR company, will launch a set of touch controllers which will allow users to touch and manipulate objects in virtual applications. "This will allow a whole new layer of immersion, a whole new set of social experiences across all these VR platforms … experiences you can't have with any existing platform today."
Zuckerberg also showed a mock-up of a pair of augmented reality glasses that looked more like a normal pair of dark-rimmed specs. Augmented reality allows images and data to be overlaid on our view of the real world, and will mean that a lot of physical objects could potentially be replaced by an augmented reality app, he said.
"If you had told me Facebook was going to build a plane I would have told you you were crazy," he said. The plane will fly at 60,000ft, around twice the height of commercial airliners, and can stay airborne for several months at a time.
Gear VR, Facebook's low end virtual reality goggles, are part of a technology that Zuckerberg claimed is going to "change the way we all experience the world". Customers have so far watched 2m hours of VR video, he said, and more than 50 games have been launched so far.
"In the future if you want to pull out your photos and make it as big as you want, you could pull out your AR glasses and make it as big as you want and show it to people.. objects like your TV could be replaced by $1 apps in the AR app store."
"But it will take a long time to make it work."
Courtesy : Facebook F8