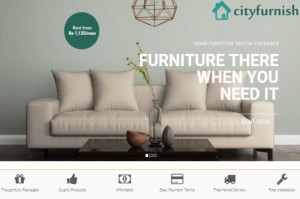 12 July 2016, India :
Cityfurnish, Gurgaon-based furniture rental startup has raised an undisclosed amount of funding from Brand Capital, the investment arm of media conglomerate Bennett, Coleman and Co. Ltd.(BCCL) i.e Times Group.
The startup is actively working in Gurgaon, Delhi and Bangalore while Pune and Mumbai on the radar. Cityfurnish aims to revolutionise the rental industry in India by making renting affordable and easy. With the advent of shared economy and rise in dislocation among the millennials, renting is set to increase and Cityfurnish wants to capture this market.
Neerav Jain, Founding Director of Cityfurnish said, "We are happy and excited about our new association with Times Group. We intend to leverage their ability to build brands through their prestigious advertising channels. We foresee a new elevated status for our brand, which shall help us expand faster in new cities."
Jain wishes to be a one-stop solution for premium lifestyle products on rent.