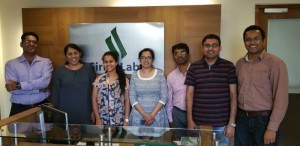 12 July, 2016, India :
SirionLabs, a startup that provides supplier management technology products, has raised $12.25 million in a Series B round of funding led by existing investor , a top company executive said.
The funding round also saw the participation of QualGro Asean Fund and Canopy Ventures. In January 2014, the firm raised $5 million from Sequoia in its series A fundraising.
SirionLabs added Sanish Mondkar, former Executive Vice President and Chief Product Officer at SAP to the company's Board of Directors. It was founded by Ajay Agrawal in 2012 and helps large enterprises manage outsourcing and procurement services.
SirionLabs CEO Ajay Agrawal told, "The product market fit for Sirion has already been validated with several Fortune Global 1000 companies realising millions of hard dollar savings through effective performance and invoice validation. This new investment and Sanish's expertise in guiding market leading products will enable us to embark on the next phase of innovation and exponential growth."

"The lack of effective technology options for managing complex services engagements during the post-signature phase has been a painful challenge for most large corporations for a long time. Through its fundamentally different approach and an intelligent product architecture purpose-built for complex services engagements, Sirion represents the future of how Fortune 1000 organisations will manage their strategic services engagements," said Mondkar.
Currently the company operates primarily through offices in Gurgaon, Michigan. It also has offices in Germany, Denmark and Singapore.