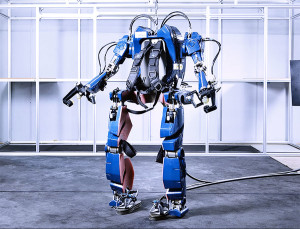 13 May 2016, South Korea :
Hyundai has launched a wearable robot that can be applied in many areas – including military use and production lines.
The new exoskeleton is apparently a development of the Hyundai H-LEX platform that it unveiled last year. That H-LEX platform was a less robust and lighter platform than what we see here and was designed to help the elderly and physically disabled get around.
It will allow the wearer to carry objects weighing over 100 kgs and will also help in walking and climbing steps. The suit can be used by industrial workers while it will also aid disabled and elderly people to walk and go about their day to day activities.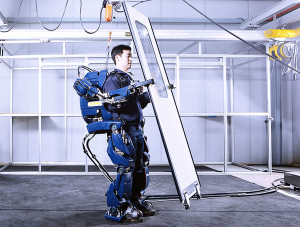 Similar in design to the suit seen in Iron Man, the user has to be buckled into the Hyundai suit. It is a blue colored robotic exoskeleton that can tackle jobs which would otherwise be impossible for humans. It increases efficiency and lessens work related injuries.
The robot is able to lift heavy weights while in military exercises it will allow soldiers to undertake longer walks and move more quickly even while carrying heavy gear. It will be useful for elderly and disabled with mobility issues while it will also be of extreme use in various commercial applications.
Hyundai has not yet announced any specific date as to when this would be ready for markets.
Image : slashgear.com