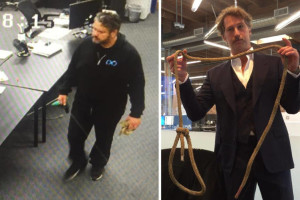 13 July 2016, USA :
Brogan BamBrogan, Co founder of Hyperloop One and its former Chief Technology Officer filed a lawsuit against other Hyperloop One Co-founder, Shervin Pishevar and three other company leaders as well as the company, alleging mismanagement, breach of fiduciary duty and other mistreatment. Mr. BamBrogan left the company unexpectedly last month, with neither he nor the company giving an explanation at the time for his departure.
BamBrogan, an early SpaceX engineer, claims his attempts to expose and correct the mismanagement led to a backlash when Pishevar's brother, Hyperloop's general counsel, left a hangman's noose on his chair, a photograph of which is included in the complaint. BamBrogan says he was demoted and two other employees were forced out after they wrote a letter to lay out their concerns to Pishevar, board member Joe Lonsdale and Chief Executive Officer Robert Lloyd.
Shervin Pishevar, the Silicon Valley venture capitalist who helped form Hyperloop in 2014, was accused in the lawsuit by fellow co-founder Brogan BamBrogan of mismanaging the company along with other "money men" by marketing their own brands and lining their own pockets.
"Today's lawsuit brought by former employees of Hyperloop One is unfortunate and delusional," Orin Snyder, a lawyer for Hyperloop, said in an e-mailed statement. "These employees tried to stage a coup and failed. They knew that the company was aware of their actions, and this lawsuit is their preemptive strike. The claims are pure nonsense and will be met with a swift and potent legal response."
The complaint says that plaintiffs sent a letter, signed by 11 top employees, to Shervin Pishevar, Lonsdale and Lloyd on May 26, about the issues they've witnessed and the need for changes. The response was one of "divide-and-conquer," with defendants making clear that "no significant changes would be made."
Some of the 11 employees who signed the letter remain with the company. BamBrogan was forced to resign, while David Pendergast, one of the plaintiffs and the company's assistant general counsel, was fired in the office by Lloyd in front of his wife and children, according to the complaint.