In the United States state of Arkansas, a 14-year-old Indian-American schoolgirl has been missing for more than 3 weeks.
As stated by the authorities, the reason behind her disappearance could be her fear of leaving America because her father faced the potential of being fired off during the cutbacks in the software industry.
The Conway Police Department (CPD) stated that Tanvi Marupally, a native of Conway, Arkansas, was last observed in her neighborhood on January 17 when she boarded a bus for school.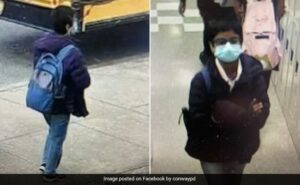 According to the cops, she may well have escaped because she feared her family would be deported, according to kark.com.
Tanvi's parents seem to think that Tanvi departed due to the family's vulnerable immigration problem.
They claim that despite spending several years working and living legitimately in the United States to become residents, the nation's immigration process has deserted them, according to katv.com.
Because of increasing reductions in the technology industry, her father, Pavan Roy Marupally, who works for a technology firm, confronted the risk of losing his position.
But according to kark.com, he has told the CPD that he is no longer in threat of losing his position and also that leaving the nation is not a problem right now.
Since November of the previous year, approximately 200,000 IT professionals have lost their jobs, along with some record amounts at firms like Google, Microsoft, Facebook, and Amazon.
Some industry experts estimate somewhere between 30% and 40% of these individuals are Indian IT specialists, the majority of whom are in possession of H-1B and L1 visas.
91,000 people were let off in merely January 2023, according to LayoffTracker.com, and this figure could rise in the next months.
This has a massive effect on them and their family, particularly the H-1B visa holders who would have to depart the United States soon once the H-1B grace period has passed after 10 days.
The article also reported that Sridevi Eadara, her mother, lost her position.
Sridevi had to travel back to India on her own and reapply for a visa as Pavan's dependent. According to katv.com, it lasted an entire year for her to be able to go back and be with her family.
When his daughter queried about what they would do if he loses his work visa, Pavan urged her not to become scared.
"I said…let you and your mom first go back to India, let me figure out what and how the system works out, get a proper job, and then call you back," Pavan said.
"(She said) what, go back to India? Why should I go back to India? I've been here." Her parents believe the prospect of being ripped from her home in the US was too much for their daughter, the report added.
"It is a big deal, any time a child leaves it's a big deal," Conway Police Spokesperson, Lacey Kanipe said on Tuesday.
"We're continuing to remain positive, our goal is to reunite her with her family," Kanipe said.
There is now a prize for anybody who can locate her as the community and CPD continue their hunt for her.
The US Marshals Service and the National Center for Missing and Exploited Children were allegedly approached by the CPD for help with this inquiry.
Tanvi's family is hoping to locate her and is giving a USD 5,000 prize.