15 April 2016 :
Huawei is getting into VR. It is introducing a virtual reality headset, called Huawei VR, that works with its new flagship smartphone, the P9. It's pretty much identical to how Samsung's Gear VR works: you insert a phone into the front of it, strap it on, and you've got a basic but functional VR headset. Huawei will sell versions that work with both sizes of the P9 and with the Mate 8.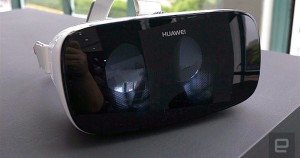 The Huawei VR headsets work in a similar way as Samsung's counterparts: Just pop the front cover open, then secure the phone (with the VR app running, of course) using the clips inside, and then snap the cover back on. Likewise, they have a touch panel, a back button and volume keys on the right for interfacing with the app. You won't be able to wear your glasses underneath the goggles, but the adjustable lenses will accommodate myopia of down to -7.00.
The company hasn't specified when it will be available or how much it's going to cost but it did say there will be more than 4,000 movies, 40 free games and hundreds of panoramic images and tours available for free at launch.
Huawei has been rumored to be getting into VR for a long time, so while today's announcement isn't exactly surprising or groundbreaking, it gives us a clearer picture of what it's trying to achieve.
Comments
comments