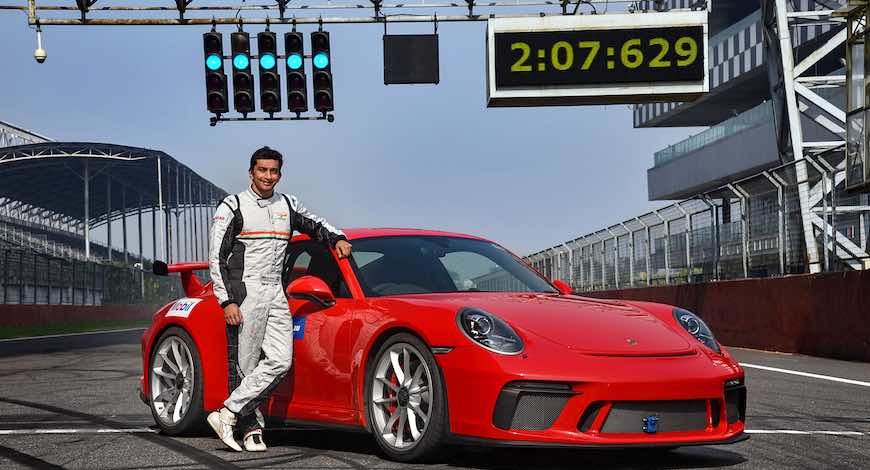 Porsche 911 GT3 has become the new record holder to lap the Indias only Formula 1 race track, the Buddh International Circuit. With the Indian F1 racing driver Narain Karthikeyan behind the wheel, the 911 GT3 finished the lap in 2 minutes 07.629 seconds which is 2.2 seconds quicker than the previous record holder Mercedes-AMG GT R.
The GT3 that set the record is, in fact, owned by Karthikeyan which he got delivered earlier this year. The F1 driver has specced his GT3 with the optional Club Sport package, which adds a roll cage, carbon-fibre bucket seats, a six-point harness and a fire extinguisher. The car crossed 260kph on the main straight of the track.
The 911 GT3 packs a 4.0-liter flat-six engine that produces 500 horsepower and 460Nm of torque. The power is transferred to rear wheels only through a 7-speed PDK dual-clutch gearbox. Porsche claims a 0-100km/h sprint in just 3.4 seconds for the GT3, with a limited top speed of 318km/h.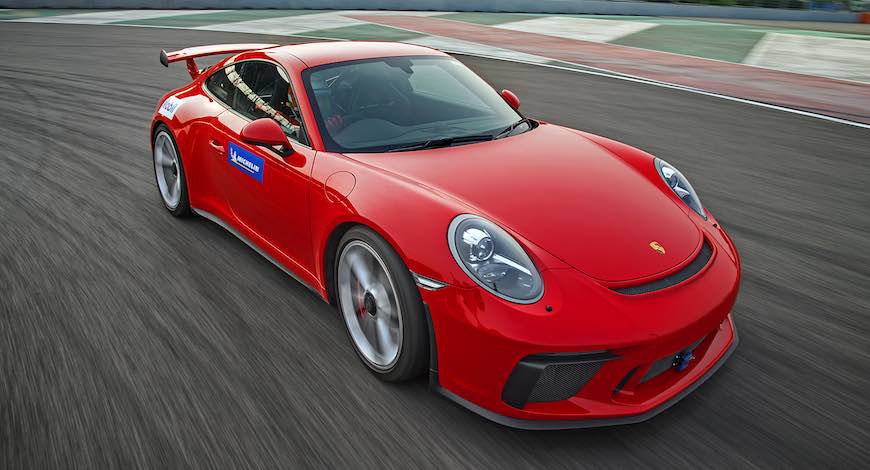 The man behind the wheel, Narain Karthikeyan said, "I have been lucky enough to have driven some of the world's most powerful cars on tracks around the world, and I can truly say that driving the Porsche 911 GT3 today was one of the most exhilarating drives I have had the pleasure of experiencing. To set a record on home soil here at the Buddh International Circuit is really very special to me, and I am honoured to have made history here with Porsche today."
Porsche also applauded the record-breaking lap with pride. Pavan Shetty, Director of Porsche India, said, "The lap record set here by the 911 GT3 is another example of the concentration of Porsche's motorsport expertise into a high-performance sports car that also masters everyday driving. Offering an unfiltered driving experience and bridging the gap between the track and the road, it is a real highlight of the iconic 911 range which continues to win the hearts and minds of our customers in India."
Source: Porsche India