In the face of rising competition, Jeep has unveiled the modified 2024 Jeep Gladiator. Inspired by the upgrades made to its sibling, the Wrangler, the new Gladiator promises enhancements in both cosmetics and performance. Let's take a quick look into this magnanimous beast. 
Aesthetic Evolution
The Gladiator's exterior showcases the all-new seven-slot grille. Say goodbye to the traditional whip antenna; now, it's seamlessly integrated into the windshield. And for drivers passionate about wheels, there are even new designs to choose from. Jeep hasn't held back for interiors either. It greets you with a newly wrapped instrument panel, smartly reconfigured to accommodate a state-of-the-art 12.3-inch LED display. Unlike a conventional display; it boasts Full-Array Local Dimming (FALD) tech, ensuring optimal visibility under the sun – a godsend when the roof is down.
The interiors of the base models are mostly black with stylish gray accents. The Mojave model has been updated with a brand-new Mantis Green option. And for Rubicon lovers, a bold red emphasis is on the way.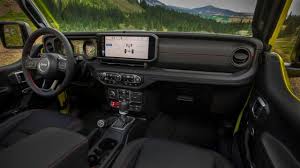 Tech Talk: Infotainment System
This LED screen isn't just for show. It operates the Uconnect 5 infotainment system. For the tech-savvy, wireless Apple CarPlay and Android Auto come standard. Accommodating all kinds of travellers, The Jeep has an inbuilt adventure guide software with features like 'Trails Offroad'. This app, ideal for off-road beginners, offers insights into trail difficulties and step-by-step navigation through over 200 trails. For the enthusiastic explorer, an extended trail catalog is available at a mere $40/year.
Airbags Upgrade
The Gladiator is prioritizing safety upgrades. They've introduced curtain airbags, a feature that might have drawn inspiration from the Bronco. Jeep has taken a unique approach to protect these airbags from weather conditions, which differs from how Ford does it. Moreover, they've incorporated advanced safety features like blind-spot detection and the ParkSense rear park-assist system into their higher-end trim levels, enhancing the safety of their vehicles for customers who opt for these top-of-the-line models.
Comfort & Conveniences
Comfort is paramount in the new Gladiator. The front seats are available with a 12-way power adjustment, designed to resist water. Furthermore, superior sound insulation, acoustic glass, and an innovative microphone system enhance in-cabin experiences, from Uconnect 5 interactions to Bluetooth phone conversations.
Distinctly Gladiator
The Wrangler offers four powertrain options, whereas the 2024 Gladiator starts with the 3.6-liter V-6 engine. However, with Jeep's commitment to electric vehicles by 2025, there's strong speculation about an electric Gladiator. Additionally, the Gladiator lineup introduces the Mojave X and Rubicon X models, which come fully equipped with various features and enhancements. These additions provide customers with more choices and exciting possibilities in the Gladiator lineup.
Release and Pricing Insights
But before you rush to dealerships, it's important to note that the 2024 Jeep Gladiator won't hit the market until late 2023. While Jeep has chosen to keep the exact pricing details shrouded in secrecy, prospective buyers can anticipate modest adjustments to the pricing structure. These adjustments are expected to accommodate the enhanced features and capabilities that the top-tier models offer, ensuring that you get the best value for your investment.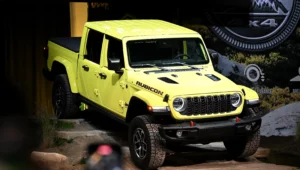 The 2024Gladiator is once again setting the bar high when it comes to towing capacity and payload ratings. Its outstanding performance in these crucial aspects reaffirms its status as a top choice for those who demand exceptional capability from their trucks. Moreover, for budget-conscious off-road enthusiasts who refuse to compromise on ruggedness and performance, the 2024 Willys variant emerges as an alluring option that promises to fulfill their dreams of adventure.