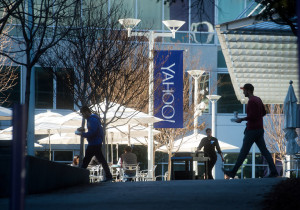 23 July 2016, USA :
Verizon is nearing a deal to acquire Yahoo! Bloomberg news reported on Friday. Verizon is discussing a price close to $5 billion for Yahoo's core internet business, one of the people said. While the deal doesn't include the company's patents at this stage, it does include real estate assets.
The non-core sale of intellectual property assets will be sold separately, a person familiar with the deal said, and won't be finished for another month at least. They could fetch "hundreds of millions of dollars," the person said.
Yahoo, which is in the process of auctioning off its search and advertising business, said on Monday its board had made "great progress on strategic alternatives" but did not comment further on the auction process. The company is expected to choose a winner this week.
Verizon's plan seems to focus on becoming a content and advertising company. It'll offer preferred access to its 120 million wireless subscribers and its millions of DSL and FiOS subscribers through its own ad products, and it'll let those advertisers reach other users through its content sites.
Meanwhile, it will harvest massive amounts of user behavior data to better target more ads and content. This isn't much different from Google's and Facebook's strategies, and they're hugely successful.