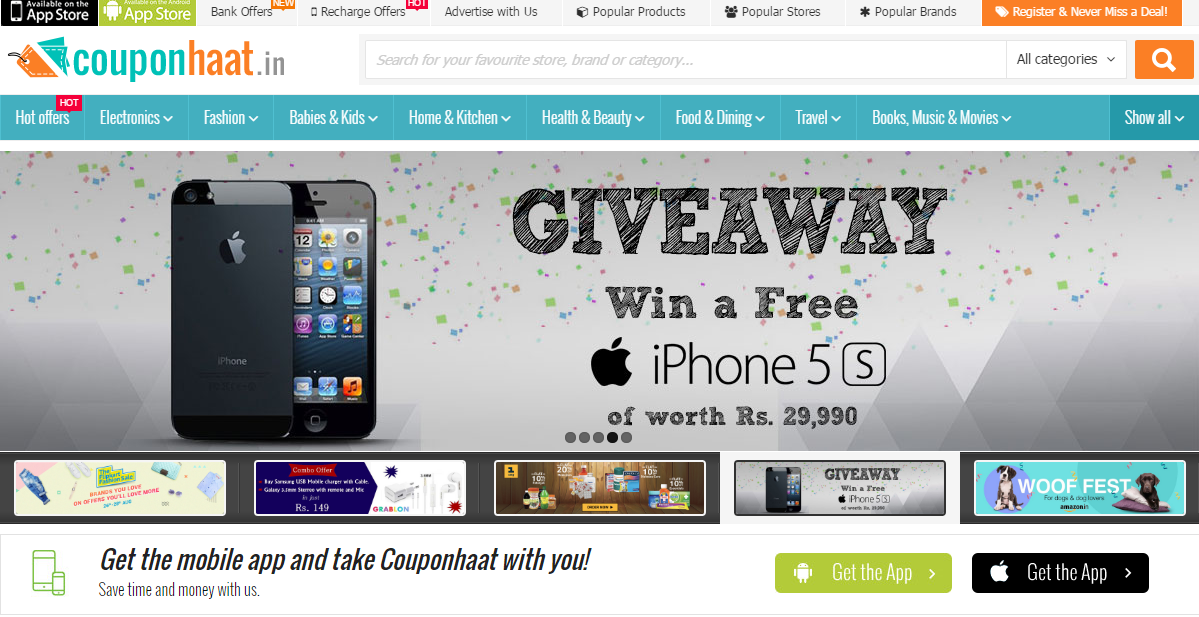 26 August 2016, India :
Delhi based start-up and Indian e-commerce company Couponhaat which provides best coupons and deals for online shoppers, is gearing up to raise around $2 Million in series A funding. The fund raising plan is in sync with its expansion plans and increasing the team size. So far, Couponhaat is fully self-funded.
Couponhaat's mission is to provide the best coupons and deals for online shoppers in India. It believes that saving money is more important than making money, so decided to hand-pick the best coupons and deals (and hidden gems) from most popular online stores in India. With online shopping rapidly evolving, It hopes to help you to save more by discovering and selecting the best online offers.
Within just one year of its operation, Couponhaat has emerged as the fresh face of the online coupons and deals industry. Couponhaat offers more than 300,000 coupons to redeem and 7000 live coupons, thousands of product pages and countless deals listed on the site.
"We want to raise capital which would help us in turning our plan into reality. So far, we have had a fantastic journey and, now the time has come when we must expand our business into different locations. We are planning to expand within the country as well as abroad. We are eyeing to raise around $2 Million and already in talks with potential investors from Europe & Middle East." says Vipin Kumar Yadav, Founder & CEO, Couponhaat.in.
"Couponhaat.in has been exceptionally setting new trends while serving our widely expanded client-base effectively since our inception. With this capital raise, we are looking to invest more in technology, human resources, marketing and brand building with an aim to grow company's footprints across different markets." Vipin further added.
Founded in 2015, Couponhaat regularly updates promo codes, coupons and deals of various brands. The company is continually envisioning better approaches to surpass the desires of both online shoppers and e-commerce merchants as well. Couponhaat seamlessly works between the two so that it could deliver substantial benefits to both the parties.
Also read-