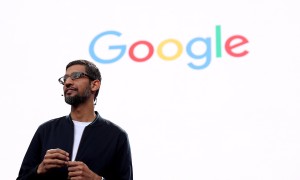 29 July 2016, USA :
Google-parent Alphabet Inc quarterly revenue increases more than 21%, shares climb in pre-market
The parent company of Google posted earnings of $8.42 a share on $21.5 billion in revenue. Quarterly sales rose 21 percent year over year. Wall Street expected the company to report earnings of $8.04 a share on $20.76 billion in revenue, according to a Thomson Reuters consensus estimate.
Alphabet's portfolio encompasses several industries, including technology, life sciences, investment capital, and research. Some of its subsidiaries include Google, Calico, GV, Google Capital, X, and Google Fiber.
CFO Ruth Porat said in a statement that the results "reflect the successful investments we've made over many years in rapidly expanding areas such as mobile and video."

"We're focused on fully autonomous cars because in early testing we saw the risk of depending on drivers to remain engaged once you give them the option to switch off. So we've invested a lot there. We're testing extensively based on this approach," she said.
Alphabet said its advertising revenue increased 19 percent to $19.14 billion. Aggregate paid clicks grew 29 percent from the same period last year, while paid clicks on Google websites were up 37 percent year over year.