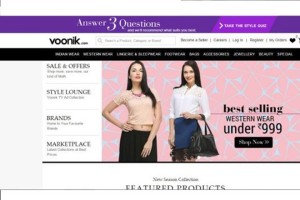 30 July 2016, India :
Fashion ecommerce platform Voonik has secured $3 million in venture debt financing from InnoVen Capital, a little over a month after it closed its last equity funding round.
Voonik is an online marketplace operating in products for women's fashion. It works on a 10,000 rule algorithm to help users find the right product on the basis of filters like skin tone, body type and preferences. The company is based in Bengaluru, Karnataka.
Sujayath Ali, Chief Executive Officer said that the company will utilize the funds for meeting its marketing costs particularly towards its television commercials. The startup was launched as a personal mobile application, before developing a website.
"We have been in conversations with InnoVen Capital for a long time now, and it's a strong relationship that has been established over a period. Also, given their strong track record of working with the portfolio companies of our investors, there is a massive comfort factor," Ali said.
According to Ali, of the $3 million raised from Temasek-backed InnoVen Capital, $2 million had come in the previous equity round, while the remaining will hit the company's accounts by early next week.
Comments
comments