3M Co. shares dropped on January 24th, 2023, after the company reported weaker-than-expected fourth quarter earnings and announced plans to cut 2,500 jobs. Additionally, the company warned of persistent global economic challenges.
For the three months ending in December, 3M posted adjusted profits of $2.28 per share, a 7% decline from the same period last year and 8 cents lower than the expected $2.36 per share. Furthermore, the company's revenue fell by 5.8% to $8.1 billion, slightly above the predicted $8.04 billion.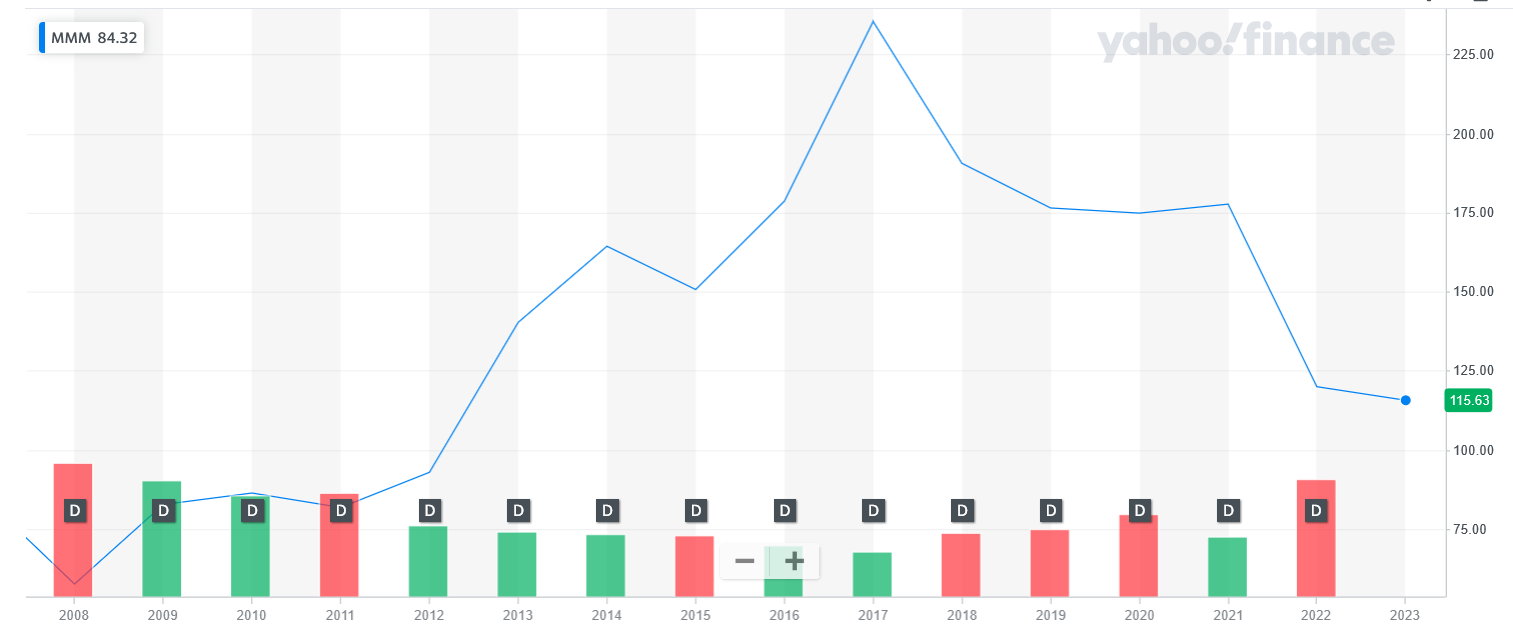 Looking ahead to the current financial year, 3M forecasted adjusted earnings to be between $8.50 and $9.00 per share, lower than the expected $10.20 per share. The company also expects adjusted sales to fall between 2% and 6%.
3M's CEO, Mike Roman, acknowledged the economic challenges facing the company, stating "The slower-than-expected growth was due to rapid declines in consumer-facing markets — a dynamic that accelerated in December — along with significant slowing in China due to COVID-related disruptions. As demand weakened, we adjusted manufacturing output and controlled costs, which enabled us to improve inventory levels."
3M shares decreased by 4.8% in pre-market trading, indicating an opening price of $116.70 per share, continuing a decline of 15% over the past six months.
3M's Performance in the recent years
In late 2022, 3M announced that it would cease production of Perfluoralkyl and polyfluoroalkyl substances (PFAs) or 'forever chemicals' from 2025 due to links to cancer, low birth weights and cardiovascular difficulties. These chemicals represent around $1.3 billion in sales for 3M, and the company warned that it will incur asset impairment charges of between $700 million and $1 billion to compensate for the shutdown.
3M's consumer-facing segments, such as consumer and office and safety and industrial, were particularly affected by the economic challenges. The company's consumer division saw a decline of 8.5% in revenue while safety and industrial division saw a decline of 7.5%. In contrast, the company's healthcare division saw a growth of 4.5% in revenue.
The company's announcement of the cessation of the production of PFAs is a part of its environmental, social and governance (ESG) initiatives. It is a step towards becoming more sustainable and responsible corporate citizen. 3M's decision to phase out these chemicals will not only benefit the environment but also aligns with the growing demand for sustainable and eco-friendly products.
3M's fourth quarter earnings were weaker than expected, and the company's outlook for the current financial year is also not very positive. However, the company is taking steps to address these challenges by cutting jobs, streamlining its operations and focusing on sustainable initiatives. The company's healthcare division has shown growth, and it will be interesting to see how the company's other divisions perform in the coming year.
Comments
comments