Tesla asks for an investment of $775.7 million to expand its Texas gigafactory. Gigafactory is basically a term referring to "facilities for electric vehicles on a large scale". Everyone must wonder what the actual meaning of term gigafactory is, with the term factory we are all familiar but giga stands for 'the unit of measurement representing billions'. Gigafactory was setup in order to cut down expenses of the company.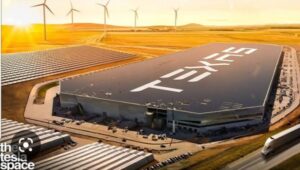 Texas gigafactory is world's largest factory in terms of area and world's second largest factory in terms of volume. It was set up in July 2020 in Austin, Texas. Tesla has now demanded for $775.7 million for expansion of the Austin factory. According to reports it has also planned to add 5 more facilities in the company including a cell test lab and a unit named "Cathode", according to the company's fillings on Texas state department of licensing's website on Monday and Tuesday.
Expansion of gigafactory after Tom Zhu promoted to global role
Reportedly Tesla asked for an investment for its Austin factory after Tesla announced Chinese president of Tesla 'Tom Zhu' to oversee all the sales of the company in the U.S and Europe. Tom Zhu was promoted as the second highest authority in Tesla after Elon Musk when Elon Musk reportedly had his all attention towards his newly acquired social media platform 'Twitter'. Elon Musk sold Tesla shares worth of $4 millions in order to acquire twitter in the deal of $44 billions.
Investors of the company were not satisfied with the performance of Tesla last year and even investors stated in an interview that they had finally met a potential successor for Tesla after Elon Musk.
The company's stocks reportedly fell down sharply in the year 2022. The main reason for the decline of said to be Elon Musk's acquisition of twitter and his all attention diverted towards the social media platform. Also, twitter's layoffs could be another reason for Tesla's stocks fallen sharply. Elon Musk was highly trolled for the layoffs he conducted in the company twitter, even a lot of employees suited Elon Musk for laying off them in a single night without any further notice.
Tesla is one of the world's most valuable company and visions to manufacture electric vehicles in the world for everyone at low prices. Investors surely expected some fortune for the company after announcement of Tom Zhu as second highest executive sales officer after Elon Musk.