In another deal, Trafigura has traded around 24.5% in Nayara Energy, a Russia-backed Indian refiner to a Rome-based energy investment group. The deal was made on Monday when a group of organizations that were backed by a commodity trading company agreed to the deal to buy the Italian refinery Lukoil.
Trafigura declared that it has managed to sell Hara Capital Sarl, an entire affiliate of Mareterra Group Holding, previously identified as Genera Group Holding, its "indirect minority interest" in Nayara Energy.
In 2021, Reuters reported that the international commodity broker was attempting to transfer its portion of the joint venture between Rosneft of Russia and India for the refinement of crude oil to Genera of Italy.
The present value of Trafigura's controlling interest in Nayara, previously marketed as Essar Oil, is unknown. Nayara is 49.13% held by Rosneft. Trafigura and Cyprus-based Russian investment company United Capital Partners jointly held comparable-sized ownership (UCP).
In Singapore-based Tendril Ventures Pvt Ltd, whose Cyprus-registered parent company seems to have a 49.13% holding in Nayara Energy, Trafigura and UCP each owned a 49.84% stake.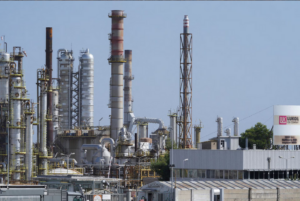 As stated in its 2022 yearly report, Trafigura has a $166 million ownership stake in Tendril. "UCP remains committed to its investment in Nayara Energy and believes in its future growth opportunities," Trafigura's statement cited Irina Lanina, Managing Director of UCP Investment Group as saying.
In western Gujarat, Nayara runs a Vadinar refinery with a daily volume of 400,000 barrels and 6,000 retail fuel outlets. A 450,000-tonne every-year polypropylene facility is currently being developed.
The report revealed that the Mareterra Group, an investment company specializing in carbon and energy optimization facilities, is operational in France, Italy, Luxembourg, and Spain and plans to develop outside of Europe.
"As a new shareholder in Nayara Energy, it will bring its strong experience in reducing the carbon footprint of fuel stations, installing electric charging stations, and improving energy efficiency at industrial assets," it said.
About Nayara Energy: 
An Indo-Russian downstream petroleum corporation with its headquarters in Mumbai, India, Nayara Energy Ltd oversees manufacturing, sales, processing, and a chain of more than 6,000 retail fuel stations across the country.
Vadinar, Gujarat, manages the second-largest oil refinery in India. As of 2020, it earned a revenue of about $11.93 billion. It was founded in 1989. And the CEO of the company is Alois Virag and Anand Balasundaram.