After Hindenburg's allegations over the Adani Group of India, the shares of the group have fallen by 50 billion USD. The group has alleged that these reports are a "calculated attack on India", its institutions, and the India "growth story".
The Adani group has now raised its voice in a 413-page long response to their 106-page long report that accused the group of "brazen stock manipulation and accounting fraud".
The Adani Group said, "This is not merely an unwarranted attack on any specific company but a calculated attack on India, the independence, integrity, and quality of Indian institutions, and the growth story and ambition of India."
"It is tremendously concerning that the statements of an entity sitting thousands of miles away, with no credibility or ethics has caused serious and unprecedented adverse impact on our investors," the Adani Group said.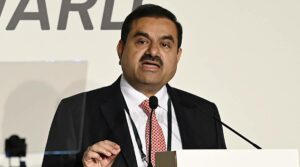 The report published by the Research center has led to a decrease in the market value of more than $50 billion, while Gautam Adani the chairman of the group lost $20 billion of its fortune.
When the question of the timing of the report was raised as the report was published two days prior to the FPO by Adani enterprises limited, the group said, "The mala fide intention underlying the report is apparent given its timing when Adani Enterprises Limited is undertaking what would be the largest ever further public offering of equity shares in India."
The Adani Group further stated that the report is "neither 'independent' nor 'objective' nor 'well researched'" while reaffirming that the Group is in obedience to all relevant laws and regulations.
The report, the Adani Group said, is a "malicious combination of selective misinformation and concealed facts relating to baseless and discredited allegations to drive an ulterior motive".
"The report is rife with conflict of interest and intended only to create a false market in securities to enable Hindenburg, an admitted short seller, to book massive financial gain through wrongful means at the cost of countless investors," the Group further said.
Questioning Hindenburg Research's credentials, it said, "Ironically for an organization that seeks transparency and openness, nothing much is known about either Hindenburg or its employees or its investors. Its website alleges that the organization has an experience that 'spans decades' and yet appears to have been set up only in 2017".
The release of the report had an adverse effect on the worth of Adani's stock which saw a massive sell-off. Over the last two-three sessions, the Adani companies lost around ₹4.17 lakh crore in the market capital.
"While we are under no obligation whatsoever to respond to these baseless allegations made in the report, in the spirit of good governance, transparency to our stakeholders and to avoid the false market, we provide our responses to the Report as also the '88 questions' raised in the report," the Adani Group said.
Saying Hindenburg has "not published the report for any altruistic reasons but purely out of selfish motives and in flagrant breach of applicable securities and foreign exchange laws", the Group said, "The truth of the matter is that Hindenburg is an unethical short seller. A short seller in the securities market books gain from the subsequent reduction in prices of shares."
Saying the Adani Group "is in compliance with all applicable laws and regulations", the response said, "The Adani Portfolio also has very strong internal controls and audit controls. All the listed companies of Adani Portfolio have a robust governance framework."