An AI-driven content-generation program called ChatGPT is causing a stir in a wide range of industries all around the world. How ChatGPT would affect content creation is a subject that is regularly discussed.
Colleges in Bengaluru have begun implementing precautions to prohibit students from accessing the chatbot for educational purposes in the days following reports that it cleared some prominent tests in the U. S..
Institutions including Dayananda Sagar University, RV University, and the International Institute of Information Technology are looking into methods to prevent students from excessively relying on AI technologies like Github Copilot, Blackbox, ChatGPT, and others. The application is not to be used, based on a written warning from RV University.
In accordance with the caution sent out by the dean of RV University's school of computer science and engineering, students are forbidden to use ChatGPT or any other programs and must produce original works in stead of those for assessment.
According to dean Sanjay Chitnis, the institute will randomly check pupils, and if they are not able to accomplish the same results, disciplinary steps will be taken.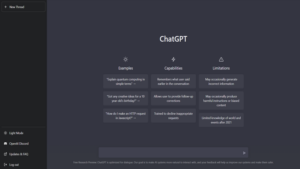 The advisory further says, "For some work, students will be explicitly permitted to use AI agents to enable higher productivity and to get used to a work environment where such agents will be allowed to be used." The university has blocked ChatGPT for general tutorials and lab sessions.
The International Institute of Information Technology Bangalore (IIIT-B) has established a committee to establish a basic structure for using ChatGPT, that will include detailed guidelines, in order to avoid copying. To fix the problem, officials at Dayananda Sagar University want to modify the assignments.
Other institutions, such as Christ University, are also exploring ways to prevent learners from using AI tools.
A chatbot called ChatGPT (Chat Generative Pre-trained Transformer) was created by the American artificial intelligence research company OpenAI.
Artificial intelligence has been used to teach it to provide thoughtful responses to "all" questions raised to it. After being unveiled in November of last year, the AI agent rapidly became a hit among the IT community.
In a recent study by a professor at the University of Pennsylvania's Wharton School, ChatGPT 3 was found to be successful in passing the program's written exam for the Master of Business Administration (MBA) degree.
About ChatGPT:
Launched by OpenAI in November 2022, ChatGPT (Chat Generative Pre-trained Transformer) is a chatbot. It is based on of the GPT-3 family of big language models from OpenAI and is tweaked (a method of transfer learning) using both supervision and reinforcement instructional methods.
On November 30, 2022, ChatGPT was introduced as a prototype. It soon gained popularity for its thorough replies and clear solutions in a broad range of topics. Another key problem was observed to be its inconsistent factual accuracy. OpenAI was estimated at $29 billion after ChatGPT's launch.