Internet of Things (IoT) is the interconnection of uniquely identifiable embedded computing devices within the existing Internet infrastructure.  IoT is very much expected to be the next big evolution in technology advancement . Almost every big technology company in the world- Google, Microsoft, IBM and  every  company that can afford a to spend on building future products is currently building IoT applications.  Gartner estimates that IoT will include 26 billion units installed by 2020, and by that time, IoT product and service suppliers will generate incremental revenue exceeding $300 billion, mostly in services.After internet, IoT surely is the next big thing in the human technological advancement!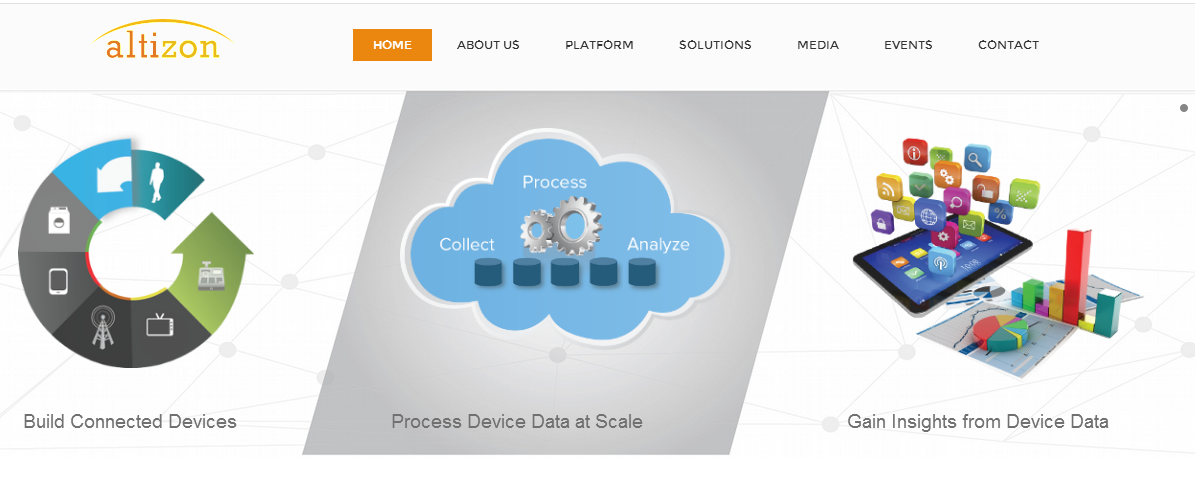 Altizon Systems is a Pune based company in the area of IoT. Altizon provides a highly scalable platform for manufacturers to build intelligent connected devices and manage them from the cloud.  Altizon's Datonis™ Platform allows organizations to build connected devices, process device data at scale and gain insights from device data.The platform has three main components that allows it to connect, process and analyse data. Aliot Device SDK  is a component that can be embedded in your device and can be used to securely stream data in real-time to the Datonis cloud. DATONIS is Altizon's cloud platform to manage data being sent by Aliot devices. Datonics  can be used to securely manage devices, view data being streamed by devices in real time and view patterns and trends on device data over extended date ranges. DATONIS APPLICATION API  is an API that can be used by 3'rd party applications to query device data collected and processed by Datonis.
The company was started by Vinay Nathan,Ranjit Nair and Yogesh Kulkarni in April 2013 in Pune. Vinay holds a MS Degree in Computer Science from the University of Southern California, and had earlier worked at Persistent as VP Sales (APAC and Middle East). Ranjit had earlier worked as a software development manager at Amazon, while Yogesh was previously director (cloud) at BMC Software.  Having worked in the tech product space for so many years, they were keen on building a product in India and taking it to the world. After months of research, they finally zeroed down on creating products in the IoT space. Vinay  is now the CEO , Ranjit  is the CTO and Yogesh  is the COO of the company. The total team size as of today is 11.
The company is currently working with about a dozen clients in the manufacturing space. Deploying Altizon's platform has shown a minimum of 7% to 10% improvement in operational efficiency for their clients. On 6th September 2014 Altizon Systems announced that they have raised an undisclosed amount of money in seed funding round with global VC firm, The Hive™, leading the round, along with Infuse Ventures and Persistent Ventures. The company is planning to used to funds to continue to push their India growth story by expanding and building out a stable business,  expanding footprints in the US market, and rolling out a self-service platform for clients.
Comments
comments