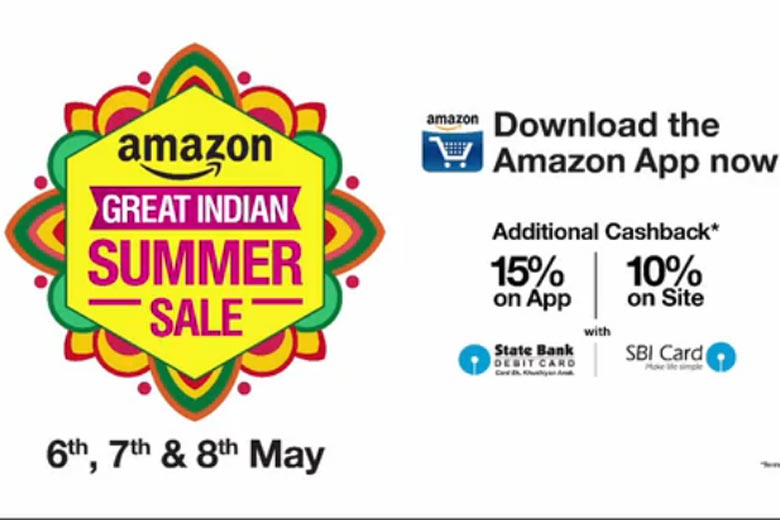 India, May 6th 2015: Amazon, one among the top E-commerce players of the country, started its Great Indian Summer Sale today (May 6) with a promise to provide 'deals that will make you dance'.
The company's much publicized summer sale  is loaded with offers and huge discounts on various product categories including fashion accessories, furnishing, books, movies, consumer electronics, Smartphone, bikes, pleated gowns and sequined sarees,  tablets, laptops, PCs, stationery products, baby products, toys, shoes, beauty products etc.
The new deals are scheduled to be posted on the app and website every 30 minutes between 8AM and 6PM on a three day stretch of 6th-8th May.
Samir Kumar, Director Category Management, Amazon India said that "With 'The Great Indian Summer Sale', we are thrilled to bring to our customers the biggest shopping event of the season. Customers will enjoy a vast, unique and exclusive selection with irresistible offers from our sellers that will make this summer season absolutely delightful".
However, there are added perks to shopping when done through Amazon Mobile App than at the website. The app comes with added benefit of providing timely notification of deals, so that you don't miss any big deal. You get further advantage of using app where you will get early access to these deals. There is a further benefit of receiving additional 15% cash back while using the Amazon phone app. Not only that, those who make payments on the app using a State Bank of India debit or credit card will be getting 15 per cent cash back contrary to 10 per cent cash back to those who make the payment in the same way on the website.
This festival is being considered as a strategic movement by Amazon to shift its customer base from website to its mobile app completely. This has come in the wake where all the giants of e-commerce industry are focusing on shifting to mobile app.
The festival holds a flat 40-50% off on electronic items such as mobile phones laptopts, tablets and other electronic accessories. Discounts up to 80% on women's clothing range and 50% off on men's and kid's clothing are available. There are also upto 20 per cent discounts on beauty products, gourmet and other similar products.
Now that the deal is live and will go on for next two days, what are you waiting for? Go download the Amazon app and grab the best deals at 'never-seen-before prices'.
Comments
comments