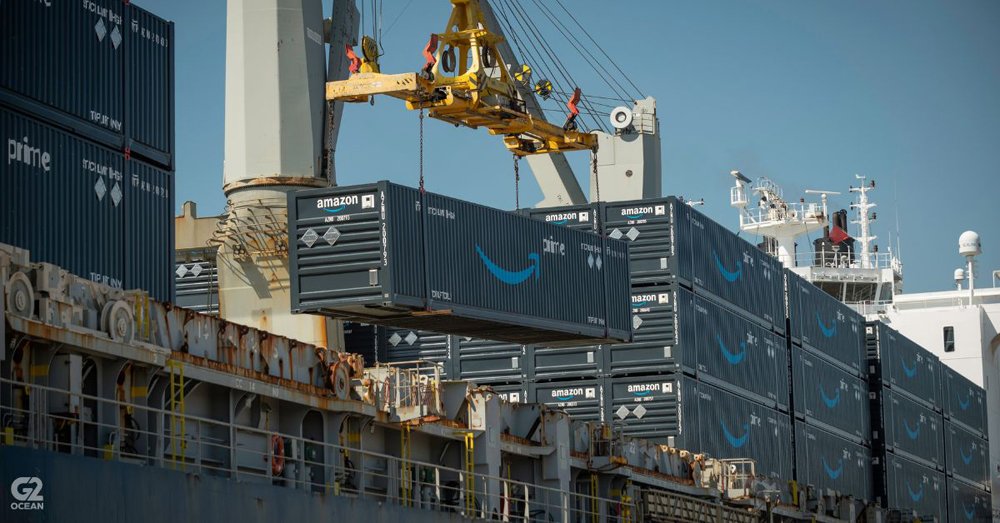 To circumvent large supply chain bottlenecks, Amazon has built its own shipping containers and chartered private ships.
While most retailers have been forced to wait months for goods that have been stranded at sea, Amazon has been able to deliver goods to ports in a matter of days. According to ocean freight analyst Steve Ferreira of CNBC, an Amazon cargo ship barely sat outside a port for two days last month. Ships at the country's major port have been waiting for up to two months.
For years, Amazon has been expanding its transportation network, unwittingly planning for a supply-chain disaster.
The firm started manufacturing its own 53-foot shipping containers in China in 2018. Amazon's characteristic arrow emblem is engraved on the navy blue containers, which are primarily transported aboard ships rented exclusively for the corporation.
Amazon Logistics carried almost 5,300 containers from Beijing to ports in California and Washington state in its first year. According to Ferreira, Amazon has grown to the point where it now ships over 10,000 of its own containers each month and is one of the top five transportation businesses in the Trans Pacific.
Shipping container rates have risen from under $2,000 to over $20,000 since the pandemic began. Containers are also in short supply due to port delays, which have resulted in millions of shipping containers being stranded at sea.
The Amazon-made containers allow the corporation to prioritise where the containers are needed the most, rather than having to return them to Asia after each delivery.
For several years, the e-commerce behemoth has chartered its own bulk freighters, a move that has paid off this year. Amazon can simply choose which ports to visit with its own ships, avoiding congested ports in favour of smaller ports like the Port of Houston or the Port of Everett in Washington state, according to CNBC.
When Amazon first started developing its transportation infrastructure, it only used it to ship about 47% of its goods. According to SJ Consulting Group, the network has grown to encompass around 72 percent of Amazon shipments since then.
Bloomberg reported last month that Amazon has invested $4 billion in avoiding big shipment delays. Amazon had began sending out packages in half-empty trucks to allow for more timely delivery, according to the journal, and had hired approximately 150,000 more seasonal workers by raising salary and offering $3,000 signing bonuses.
This year, other retailers such as Walmart and Home Depot have followed Amazon's trend. The retailers have tried everything from chartering their own big freighters to flying in cargo or using smaller ports, but Amazon has a leg up because its transportation network is more established.