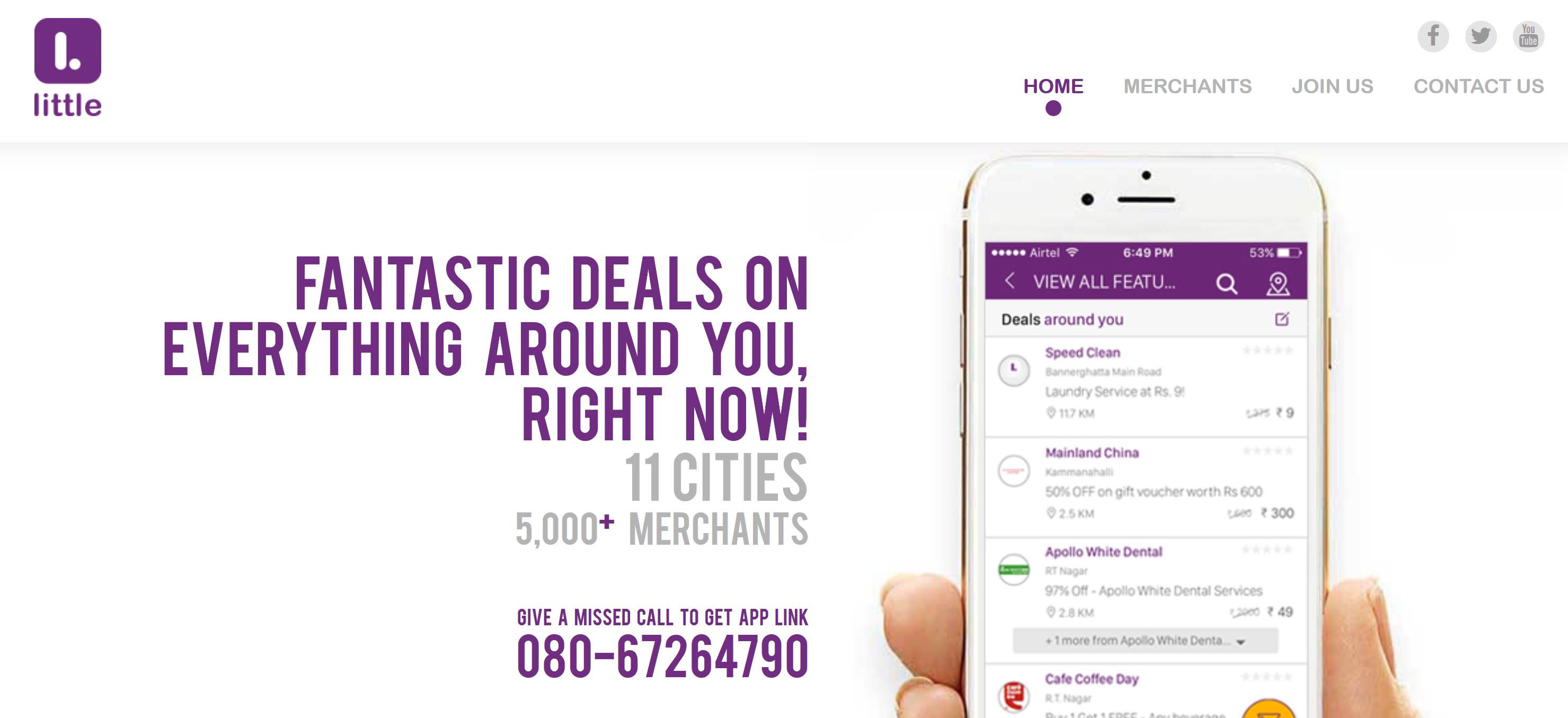 Former CCO of AirAsia and debutant author becomes the latest addition to the senior management team at 'Little'
Amisha is the author of the best-selling book of the season "It Doesn't Hurt To Be Nice"
Amisha brings with her over a decade of consumer and brand marketing experience
Amisha has also  previously held leadership and marketing positions at AirAsia, BlackBerry and Airtel
Little already has on board 8000+ merchants with 27,000+ live deals across Hotels, F&B, Movies and Health & Wellness
Bangalore, October 8, 2015: Little, the pioneering 'app only' marketplace in the Online to Offline space (O2O), today announced the appointment of Amisha Sethi as Chief Marketing Officer.  Amisha Sethi is an executive scholar in marketing and sales management from Kellogg School of Management, and has more than a decade of consumer and brand marketing experience. Amisha was previously the Chief Commercial Officer at AirAsia. She also recently debuted as an author with her book "It doesn't hurt to be nice". Launched in September 2015, the book is about rediscovering life in a fun and entertaining way and has already become a best seller on Amazon and other offline stores in India.  Little was launched in July 2015 by Manish Chopra and Satish Mani, who previously founded Zovi. The company has been funded to the tune of $50Mn by Paytm, SAIF Partners and Tiger Global Management among others.
Before joining 'Little', Amisha was the CMO Global of a leading MNC in Vancouver, Canada. Prior to that Amisha worked as the Chief Commercial Officer at AirAsia and has been the Director of Brand Marketing Asia Pacific at BlackBerry and Marketing Manager at Airtel. In 2014 Amisha was awarded as 'Young Woman Rising Star' at the World Woman Leadership Marketing Congress.
In her role as Chief Marketing Officer (CMO), Amisha will be spearheading the brand building activities for 'Little'. She will be focusing on numerous strategies to enhance customer acquisition to position 'Little' as the de-facto app in the O2O deals marketplace. She also intends to build an in house innovative team of marketers called – 'Jugaad Marketers'. This team will play a key role in introducing never before seen marketing initiatives and transforming the O2O space in India.
Amisha Sethi, said, "Little is by far the finest app delivering fantastic deals on almost everything around including Hotels, F&B, Movies and Health & Wellness. The O2O market in India offers huge potential to create and execute interesting marketing campaigns. The fragmented nature of the market, will allow us to drive never been seen marketing initiatives that will enable 'Little' to be a part of a consumer's day to day life. With our new 3C's concept of Crazy, Compassionate and Creative innovators, we will be creating a first of its kind marketing team called 'Jugaad Marketers'. With this passionate team, we want to take 'Little' to great heights and revolutionize the O2O space in India."
Speaking on the appointment, Manish Chopra, CEO and Co-founder of Little said, "We are excited to welcome Amisha onboard. Amisha comes with the rich experience of steering marketing for well admired companies like AirAsia, Blackberry and Airtel. Her experience will be integral to get more customers to experience 'Little' and recognize 'Little' as their partner to enhance their lifestyle. We want 'Little' to be known as a cool, fun and must have app for lifestyle deals. Amisha and her team of 'Jugaad Marketers' will accelerate this process for us. At Little the endeavour is to build a creative and energetic team. With Amisha joining us, our ambitious people plans are coming true."
Little has already enrolled 8,000+ merchants offering 27,000+ deals across 11 cities. By March 2016, Little will offer 50,000+ deals across services like restaurants, movies, hotels, salons, gyms, spas and is expected to hit a GMV run rate of $170 million. They recently announced the appointment of Suraj Panigrahy, co-founder of '69 Seconds', as VP – Sales and Merchant Acquisition and Wishy Arora, Senior Product Manager at Cleartrip as VP – Products.
Comments
comments