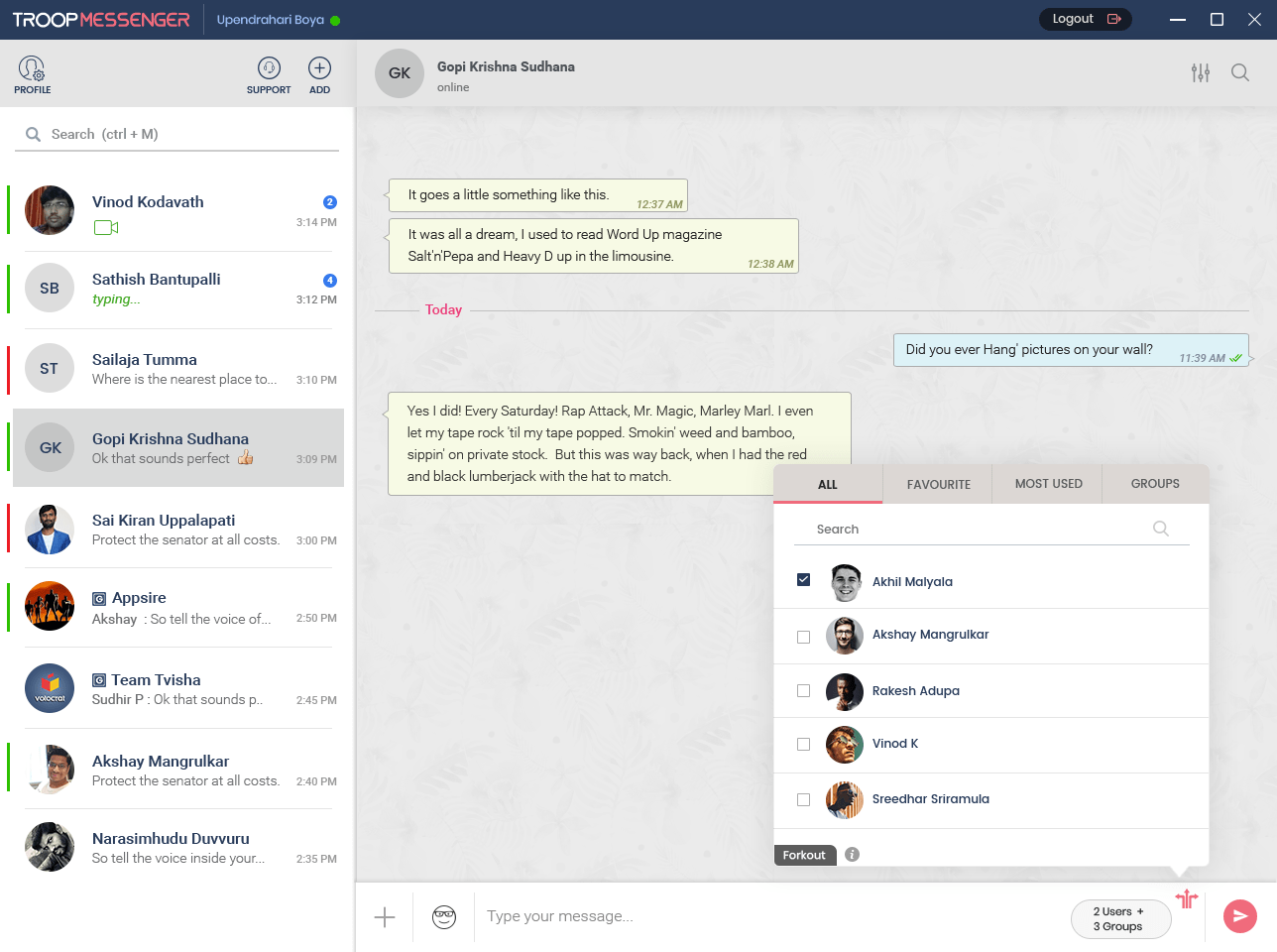 Bring your teams close to each other with easy-to-use yet powerful team collaboration
application, The Troop Messenger. Most corporates and business entities have started to switching to office chat applications, from the earlier practice of relying on tons of loop email conversations. There might be several similar players in the market, but you would definitely find Troop Messenger with more functional features in it, comparatively with less price than others.

Features

Share your innovative business ideas just at the touch of the one-on-one messaging feature of Troop Messenger. Have a face-to-face conversation with your office mates for enhanced team collaboration experience. Send a quick and instant voice message to convey your quick project updates. Engross in real-time desktop sharing even when you are remote through the applications screen sharing feature. Invite a client/vendor/freelancer/ or anyone into Troop Messenger with the help of the Orange Member feature.

Setup

The initial set-up is quite simple and easy. Troop Messenger is cross-platform enabled and is available on Windows, Mac OS, Linux, Browser, Android and iOS. Those who don't want to set up the download and installation process, they can simply sign-up to the application from any of its browsers with their business email ids for a desktop application.

Any business user can register to the application at absolutely no cost till 31st May of this year. A verification mail will be sent to the registered user to confirm their authenticity to start using the application.

When we move on to the mobile application, download Troop Messenger from Google Play store and App store to enjoy its services.

Pricing

Though Troop Messenger comes absolutely free till next month end, on the whole it is relatively 85% less pricey when compared with other industry players. The freemium application comes in three pricing variants; free, premium and enterprise.

Business users can opt for a free plan to give a trial to the application but with limited features. They need to upgrade to premium and enterprise plans to avail the powerful feature-stack at $1/per user/per month and $5/per user/per month respectively. Troop Messenger has a special customized pricing plan for Government and large corporations.

User Interface

The USP of Troop messenger is its user interface. It is simple and easy to understand even for any novice user. The smooth navigational flow designed for each feature is completely intuitive. Your profile, users and groups list with the power global search feature to filter out users, groups, orange members, time filters are present at left-side of the interface. This section also takes you to create groups and connects you with their support team as well.

Explore the features embedded in the splashboard from the chat type area of the user's window. The users can initiate a voice call, video call, screen share, burnout, live location tracking, and attach from this splashboard. You have leverage at Troop Messenger to send a single message to multiple users and multiple groups at one go with the help of the feature Forkout.

Last but not least, you can find the most powerful advanced search filters at the top right of the user chat window.

Admin Controls

Troop Messenger's dashboard is designed for Admin. The person who is an admin can log into the application to access the admin dashboard. He/She has the privilege to add the employees or orange members to your organization's Troop Messenger application. Get to know the complete analytic report of the application's usage from here along with a provision of setting permissions on various features of every user.

One of the best alternatives to Slack

These days we hear of Slack everywhere, why not we try a simple application like Troop Messenger to address complex office routines. The much talked about competitive pricing of this application is far less than any others with few additional sets of perks. Its sign-up process is fast and easy when compared to slack. Troop Messenger does support a wide range of integrations.