Employees who request to operate virtually on a permanent basis could be at the risk of having their employment outsourced, based on a CEO's consideration to The Wall Street Journal.
According to the chief executive officer of the business, Johnny Taylor Jr., this is what took place after a Society for Human Resource Management worker who was interested in moving states indicated that she could work remotely.
Taylor told the Journal that he eventually decided to offshore the job to an individual in India, which resulted in a 40 percent decrease in labor expenses.
According to an organization spokeswoman who discussed with Insider, the Society for Human Resource Management operates a hybrid remote employment practice that permits workers to operate from home on Friday and Monday.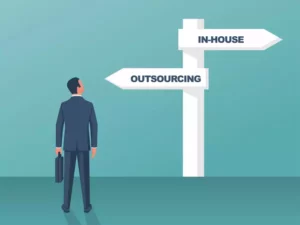 Taylor is not the only one wishing to recruit workers from other nations, where the average pay for computer occupations tends to be far less than in the United States of America.
During the pandemic, remote job potential for US workers increased. However, the number of jobs related to moving offshore could increase if certain companies continue to have difficulty finding employees and look for ways to reduce expenses.
White-collar workers in the United States may be especially harmed by outsourcing; this group has already seen cutbacks in the past year. White-collar experts might find themselves battling against a worldwide pool of applicants if additional US-based companies make their job ads accessible to foreign candidates.
In the past, a few computer companies have employed personnel from Latin America, Europe, Africa, and the Middle East. According to Business Insider, this is an important change for a sector that has historically placed a high priority on face-to-face interaction.
According to a March study from the IT recruitment portal Laskie, firms seeking to hire developers in the United States or Latin America increased to 75 percent. 55 percent of employers were looking at contenders from the United States and Latin America a year ago.
"US tech companies are saying, 'We can hire an engineer in the United States for $300,000 or we can hire somebody great internationally with very similar experience for $75,000,'" Laskie CEO Chris Bakke previously told Insider.
However, only occupations that could be carried out totally remotely are in danger of being affected. Additionally, the amount of remote employment opportunities in the United States has been progressively declining in part since more businesses are implementing return-to-office programs.
According to a recruitment company, ManpowerGroup, just around 13 percent of the United States open positions were remote as of March, despite the fact that totally working from home in the United States reached an all-time high of 60 percent in 2020. 17 percent of job listings allowed work from home the year before.
Layoffs around industries:
Twitter Inc. CEO Elon Musk stated on Wednesday that the social networking site is "roughly breaking even," adding that despite these significant layoffs, more than half of its sponsors have come back and its aggressive efforts to reduce expenses are beginning to pay off.
Musk said that Twitter currently has around 1,500 workers, a substantial decrease from the "just under 8,000 staff members" it had prior to the acquisition of the enterprise in October, during an appearance on the British Broadcasting Corporation that was streamed live on Twitter Spaces.
According to insiders who reported to Reuters, since Musk paid $44 billion to purchase Twitter, the organization has been marked by confusion and uncertainty because several of the engineers in the position of repairing and preventing service outages have been dismissed.
This month, McDonald's Corp. is undertaking an organizational restructuring that could result in a number of layoffs and reduced wages for some employees.
The people involved claimed that the massive layoffs and modifications at the burger business impacted staff on a global scale, at McDonald's corporate office in Chicago and in its branches across the country, as well as other departments like advertising and operations.