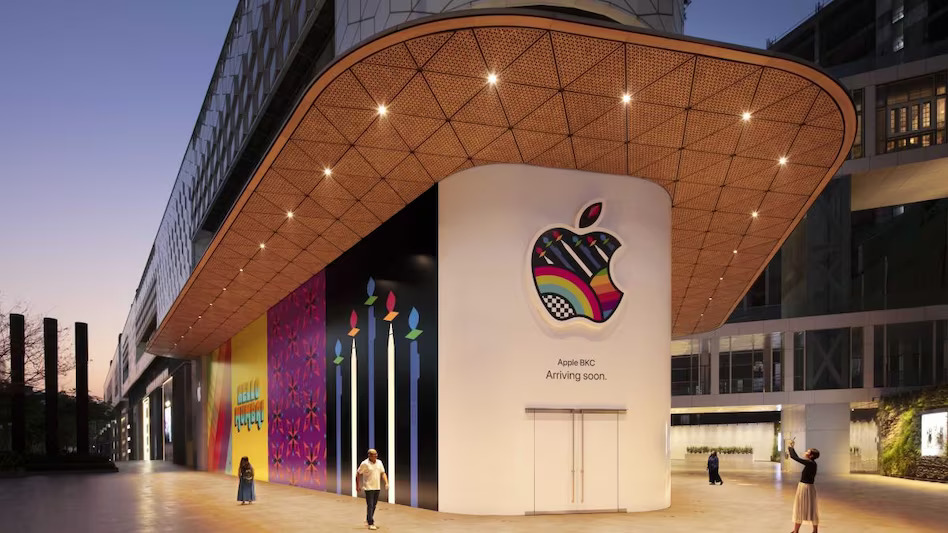 Apple Inc. is an American multinational technology company widely known for its products such as iPhone, Apple watch, airpods and Macbook. Apple is set to open its first retail store in India. Apple is known for exclusive retail stores for its products. The store will be located at Reliance Jio World Drive mall in Mumbai. For this Apple has leased a 20,000 square foot space in the luxury mall at a cost of Rs. 42 lakhs per month.
Apple's Exclusive Spaces in Retail Stores
It is also known for creating spaces within stores that are only accesible to apple products and not to its competitors. According to the recent developments Apple has imposed a condition that no other smartphone maker should be allowed in a 500 meter radius of the store at Reliance Jio World mall.
According to reports, the mall's management has agreed to Apple's demand for exclusivity and will not rent any retail space in the immediate vicinity of the new Apple store to any of its competitors. This means that popular smartphone brands such as Samsung, Xiaomi, Vivo, Oppo, and others will not be able to have a presence in the mall's "exclusive zone" where Apple's store will be located.
Criticisms and Apple's Defense for Exclusivity
This move of creating exclusive spaces has been criticised a several times in past. This move has raised concerns about anti competitive practices and the role of large corporations in shaping local markets to limit competition. This also limits the choice of the customers and blocks the competitors to target similar audience.
However, the company has defended its decision, stating that the condition was necessary to maintain the exclusivity of the brand and to protect its intellectual property. Apple's distributuion network has not been established in India due to regulatory hurdels thus delaying retail operations.
India is a significant market to Apple.
India has been the fastest growing smartphone market in the world. India is a price sensitive market and there are a lot local smartphone manufacturers who offer valuse centric phones. Apple already has a small market share in the country. Apple is also expanding its manufacturing infrastructure in India, and has also launched several India-specific initiatives, such as Apple Music with local language support, and Apple Pay integration with Indian payment systems. This move devised to improve the reach of the brand to its customers. However it will be interesting to see how Indian customers react to Apple's premium products.