California-based multinational tech giant Apple Inc is rapidly increasing its manufacturing capabilities in India as news reports suggest that the company exported more than 2.5 billion dollars worth of iPhones from the country between April and December 2022. The export numbers for nine months are twice more than the total export in the previous fiscal.
Individuals who are aware of the sensitive export-related information told news agencies that Foxconn Technology Group and Wistron Corp. have each shipped more than $1 billion worth of iPhones from India in the first 9 months of FY22. Foxconn Technology Group and Wistron Corp, both based in Taiwan are two major manufacturers of Apple products.
A major part of Foxconn's operations in India is happening in Chennai, the capital city of Tamil Nadu. In the mid-2010s, Foxconn announced that the company will set up twelve factories in various parts of the country.
Another major apple manufacturer, Pegatron Corp. is planning to export Apple products worth 500 million dollars by the end of January 2023. With more than two months left before the end of the current fiscal year, the export of Apple products from India will reach an all-time high.
Rapidly increasing production and export of Apple products from India suggests that the Multinational company is trying to shift its major manufacturing facilities from China to India and other countries. Back-to-back health and political issues in China and the challenging macroeconomic environment are forcing multiple mega corporations to plan to exit the Chinese manufacturing market.
Chaos at the Foxconn iPhone manufacturing plant in Zhengzhou, China had multiple negative impacts on the manufacturing and output of the latest iPhone models. Zhengzhou plant which is also known as "iPhone City" is a highly significant manufacturing destination for high-end Apple products.
Issues related to Covid-19 protocols and worker problems forced Foxconn to slow down the manufacturing of iPhones in the plant. This forced apple to cut down output estimates for the financial year.
Besides manufacturing issues, decreasing demand for electronic products and premium smartphones is also having severe impacts on the future financial prospects of Apple and Foxconn.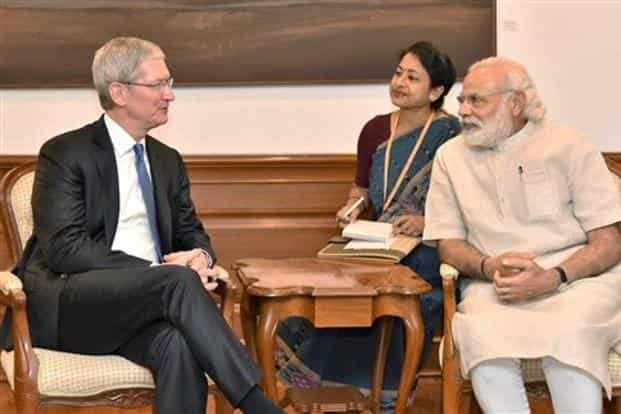 Meanwhile, on the other hand, the union government of India and various state governments in the country offer several production-linked incentives for mega manufacturing companies.
Apart from the incentives, companies are also getting access to skilled labor and resources at fewer costs. All these elements make India one of the most favored destinations for large-scale manufacturing and production.
Even though Apple only manufactures a small portion of its products in India currently, growing production and exports suggest that projects implemented by the government to encourage investment and manufacturing are working well.