On Monday, Apple revealed its foremost virtual reality headset making competition stiff for rival Facebook-owner Meta in a market that is still left to lure videogamers and tech enthusiasts with something more surreal and unique.
The unveiling of the headset was the most anticipated product reveal by the classic iPhone maker since 2015 when it launched the Apple Watch.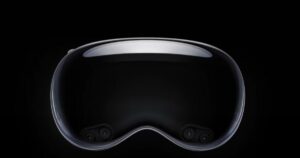 As he launched the Vision Pro, Apple CEO Tim Cook, wore a unique VR device that looked much like ski goggles and said, "Blending digital content with the real world can unlock experiences like nothing we've ever seen."
The Vision Pro will pierce a deep hole in the pockets of its buyers as it has been priced at $3,499 and will arrive in the markets early in 2024.
The headgear was launched at the end of WWDC, an Apple event held in Cupertino in California where the iPhone maker shared a lengthy list of product updates.
Disney associated with Apple for the headset launch and the Mickey Mouse behemoth streamed teasers from Marvel, Star Wars and live sports that would be exclusively available on the Vision Pro.
In a statement, Disney CEO, Bob Iger said, "We're so proud to yet again be partnering the greatest storytelling company in the world with the most innovative technology company in the world to bring you real life magic."
The launched headset device by Apple would consume a huge amount of computing power and will work when plugged into the wall, with a battery life only limited to keep the goggles functioning for two hours.
In an attempt to tempt its gaming enthusiasts, Apple also shared that more than 100 Apple Arcade games would be streamed on the headset from the beginning of its release.
The device would also project out of a user's eyes on an external screen so as to ensure smooth interactions with others.
For the last few years, this headset was in development at Apple forums, and will only concentrate on gaming, video streaming and conferencing, along with health and fitness.
Rolf Illenberger, founder and CEO of VRdirect, a software company for virtual reality devices, said, "It would be drastic to say that Apple Vision Pro will replace a computer or cellphone in the immediate future."
"But that day will happen soon, most likely starting with those who enjoy having a second or third monitor at their workstations," he further added.