Last month, Google revealed the rival of ChatGPT – Bard. Although it was a great achievement for Google but employees around the office made fun of the company as well as the CEO Sundar Pichai, calling it a 'rushed', 'botched' and 'un-Googley' announcement.
Several issues related to Bard were answered by the company's executives in an all-hands meeting to the questions from Dory, the company's internal forum on Thursday. In that meeting, the product lead for Bars, Jack Krawczyk stated that AI tools are not merely for search.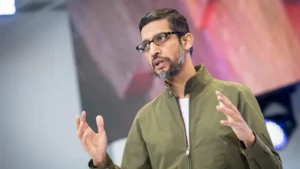 In the meeting, executives were asked, "Bard and ChatGPT are large language models, not knowledge models. They are great at generating human-sounding text, they are not good at ensuring their text is fact-based. Why do we think the big first application should be Search, which at its heart is about finding true information?" as viewed by CNBC.
Answering this, Krawczyk said, "I just want to be very clear: Bard is not search rather an experiment that's a collaborative AI service." "It's an experiment that's a collaborative AI service that we talked about," Krawczyk said.
"The magic that we're finding in using the product is really around being this creative companion to helping you be the sparkplug for imagination, explore your curiosity, etc." But Krawczyk was quick to follow up by saying, "we can't stop users from trying to use it like search."
He further said Google is still to provide to people who just want to use it for search, conveying that the company has created a new element for internal use called "Search It."
"We're going to be trying to get better at generating the queries associated there, as well as relaying to users our confidence," Krawczyk said. He added that users will see a tab that says "view other drafts," which would point people away from search-like results.
"But as you want to get into more of the search-oriented journeys, we already have a product for that — it's called search," he said.
However, the procedure to separate Bard from search seems to signify a main part of the initial process based on the internal memes that were circulated in the past weeks. Moreover, several executives have hinted that Google is trying to develop a technology that could merge with search.
While making the announcement in a blog post, Sunda Pichai wrote, "We're working to bring latest AI advancements into our products, starting with Search."