Bed Bath & Beyond's Canadian operations have filed for bankruptcy, as they are insolvent and lack the financial resources to restructure independently. The Canadian division's inability to carry out an independent recapitalisation or restructuring underscores the challenging retail environment in the region, which has seen several large retailers either close down or restructure.
The parent company's support and access to cash are essential for the survival of the Canadian business, and the company has raised funds to stave off bankruptcy in the U.S. Earlier this week, the company successfully raised approximately $225 million in an equity offering and is expected to secure another $800 million over the next ten months.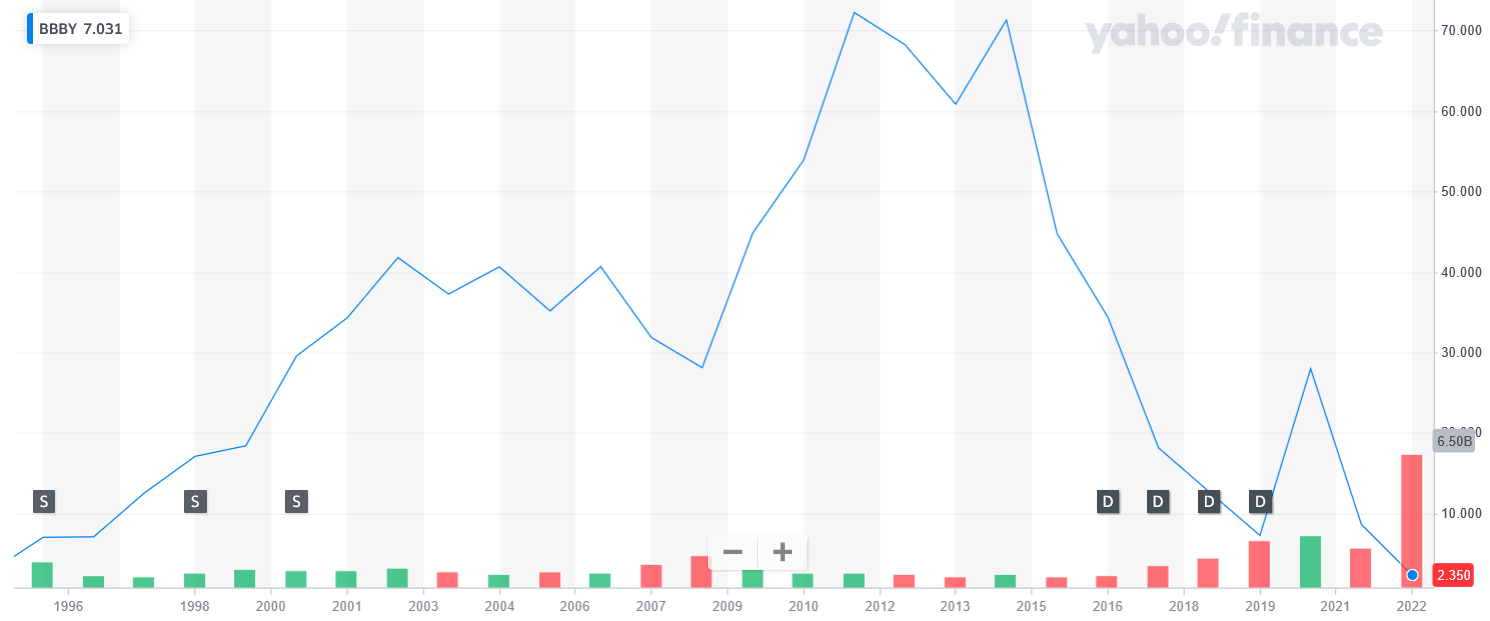 The restructuring firm will oversee the management of the business and provide an independent assessment of the company's operations to the court.
How will Bed Bath & Beyond survive in 2023?
The company's financial challenges have led to job cuts and store closures, highlighting the need for retailers to be nimble and adapt to evolving consumer behaviour. Bed Bath & Beyond's struggle to avoid bankruptcy underscores the challenges facing traditional brick-and-mortar retailers in the face of the rapid rise of e-commerce.
According to a court filing, the company's Canadian operations, which include both Bed Bath & Beyond and Buy Buy Baby stores, have total assets of $427.4 million and $52.7 million, respectively. These financial figures indicate that the company's Canadian operations are facing significant challenges, and the company may need to take action to address its liabilities and improve its financial position.
These figures indicate that the company's financial challenges are not limited to the U.S. market, and its Canadian operations are also struggling to stay afloat. The company's failure to adapt to changing consumer preferences and competition from e-commerce retailers has put it in a precarious position. It highlights the importance of continuously evolving and innovating to remain relevant in today's retail landscape.
Warren Eisenberg and Leonard Feinstein in 1971 founded Bed Bath & Beyond. The first store was located in Springfield, New Jersey, and the company has since grown to become a significant home goods retailer with stores across the United States, Canada, and Mexico. Bed Bath & Beyond has 54 stores in Canada, with 11 of those being Buy Buy Baby stores.
Bed Bath & Beyond, a popular home goods retailer that became a household name in the 1990s, has been struggling in recent years due to a failed merchandising strategy that focused on selling more store-branded products. As a result, demand for its products has dwindled, leading to financial difficulties.