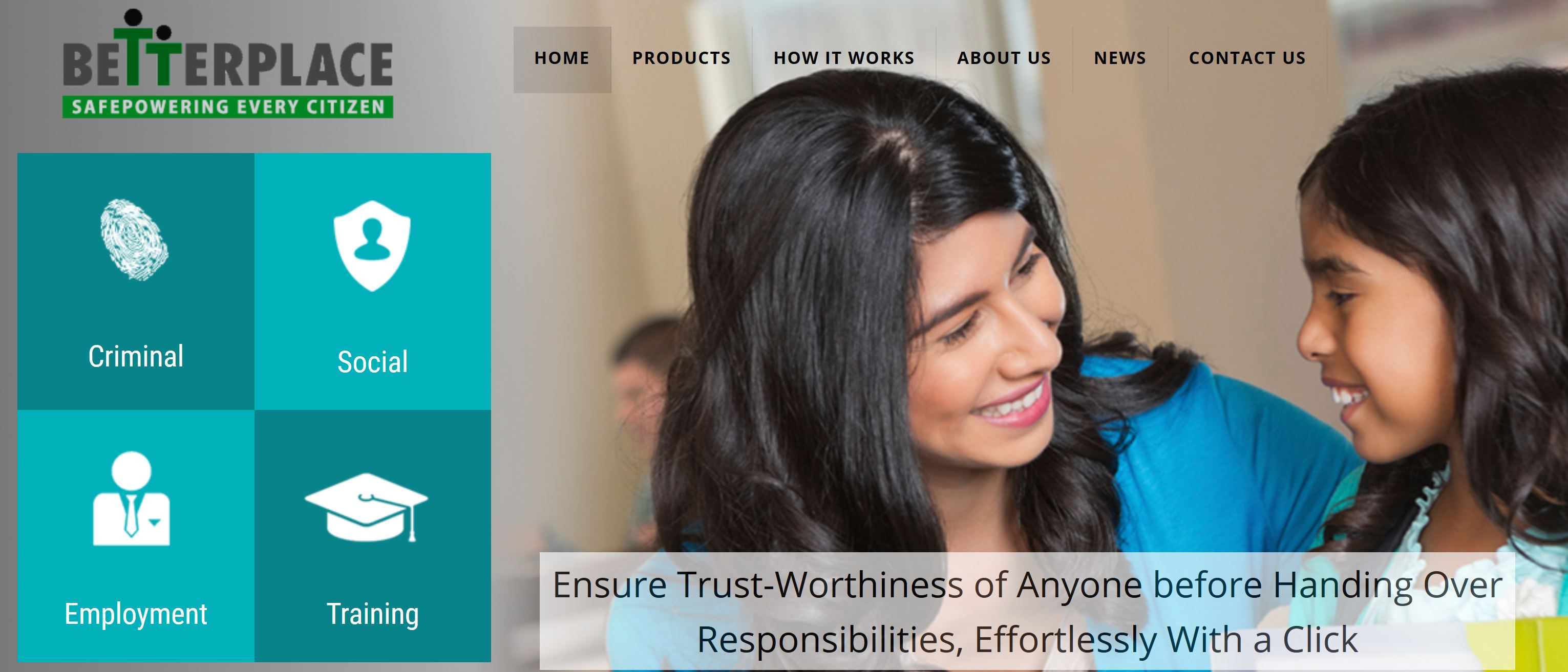 BetterPlace to accelerate technology development, operational capability and geographical presence for offering "Safety as a Service – SAAS"
16th February, 2016. Bangalore, India: Unitus Seed Fund, India's most active seed fund supporting startups innovating for the masses, today announced an investment in BetterPlace Safety Solutions, a Bangalore-based digital verification solution provider aiming to create "A Better Place For Billion+ Indian Citizens By SAFE Powering Them".
Founded in 2015 by Uday Singh, currently the Group CEO of SIS Group and Pravin Agarwala, former Global head of Cloud ERP Development at SAP, BetterPlace has created India's first web service that addresses the 'trust deficit' in any form of alliance or interaction between individuals and entities. From verifying the credentials of a potential tenant, to hiring a maid, to fulfilling the workforce hiring requirements of large organizations, BetterPlace aims to provide a trust platform and safety profiles for individuals and entities and provide safety solutions for related safety concerns through its web-based service and mobile applications. Since inception, BetterPlace has been working closely with expert advisors on data based security, legal, privacy and technology to lay a strong foundation for the firm, focusing on the need to address the challenges of safety and security at the scale required by businesses across India.
Commenting on the genesis for BetterPlace, Pravin Agarwala said, "The rising incidents of abuse of children in the city schools traumatized all parents. Being the father of two young girls and a techie, I started to think of a technology based solution that could address such issues by a process of continuous and reliable safety products. That's what led to BetterPlace. The trust factor which is basis of any relationship is built around integrity, character and social parameters."
BetterPlace's technology platform offers multi-point verification across digital and offline channels from a combination of sources including Aadhaar (digital ID) information, relevant digital footprint of an individual, traditional background checks as well as crowd sourcing from social media. Continuous monitoring is enabled by a trust-based system which learns from feedback provided across touch points and location data analytics. When hiring somebody, all that needs to be done is a search by name, mobile number or a valid id and the hirer can view a profile that enables a decision to be made about the potential hire. The platform also allows for users to create base profiles which are then verified by BetterPlace.
Highlighting the growing need for bridging the trust deficit, Uday Singh added "Safety is one of the most important needs of each one of us and yet we compromise on it due to absence of credible technology based solutions. Having observed the industry closely for decades, I believed this is one thing we owe to the fellow citizens. We want to touch every citizen to create a BetterPlace for them. For example, rapid
urbanization has led to massive migration from rural to urban cities, in most cases without an identity, which first needs be established for increasing trust levels."
World Bank estimates that Aadhaar is saving the Indian government about INR 6,700 crore (USD 1 billion) annually by curbing corruption through digital technologies that can promote inclusion, efficiency and innovation. The "ease of doing business" and saving through establishment of trust (both through proactive and deterrent effects) are going to add multiplier effects. Commenting on the BetterPlace solution, Nandan Nilekani, former UIDAI chairman said, "I have always believed in the power of Aadhaar to leapfrog development and transformation of our country. BetterPlace has been able to leverage the Aadhaar platform and utilize it for a broader social need by offering an innovative, integrated and continuous safety as a service offering."
"We are excited to be working with BetterPlace to support their growth. The firm's strong technology platform and the underlying data analytics and application tools will bridge a much-needed gap in the safety quotient of the country," said Unitus Seed Fund co-founder and Managing Partner, Will Poole. "We see the potential for BetterPlace to enable more secure onboarding for workers and better prospects for all," he added.
Over the past few months since its launch, BetterPlace has been able to partner with multiple firms including Housejoy, CommonFloor, RoadRunnr, and Swiggy. The technical wizard behind Google map maker and ex India head of Google products Mr. Lalitesh Katragadda has extended his technical guidance, personal investment and active involvement in creation of BetterPlace since he terms the elimination of "Trust deficit" in our society as one of the social reforms very high on his agenda of issues to solve.
With the investment from Unitus, BetterPlace will accelerate its technology development, increase operational capability and add geographic presence.
Unitus Seed Fund is the leading venture seed fund supporting startups innovating for the masses in India. Unitus invests in healthcare, education, mobile & consumer, retail & e-commerce, financial services and agriculture sectors. Founded in 2012, Unitus Seed Fund is part of the Unitus Group, a premier financial services group operating in India and other emerging markets since 2000. Unitus Seed Fund is based in Bangalore and Seattle, and is a member of the Capria Network.