A regulatory filing revealed the actual salary BharatPe's founder Ashneer Grover and his wife, Madhuri Jain Grover took to their home. The founder received a salary of Rupees 1.69 crore in the financial year 2022 while his wife who was designated as the head of controls, received Rupees 63 lakh in FY22.
The husband and wife duo was earlier arrested on the charges that the company carelessly used the company's finances.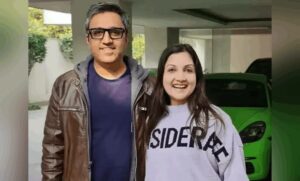 The filings also revealed Suhail Sameer's salary of Rs 2.1 crore was the former Chief Executive Officer of the company. He stepped down as the CEO of the company early this month. Rajnish Kumar, chairman and former chief of the State Bank of India brought Rs 21.4 lakh as remuneration.
Apart from them, the other top executives of the company like the founder and board member, Shashvat Nakrani were granted compensation of Re 29.8 lakh and Kewal Handa, a board member got Rs 36 lakh.
The remuneration however did not include share-based payments that were given to individuals. The financial statements of the company showed that Rs 70 crore was incurred from share-based payments in the year 2022 which is up 218 per cent from the previous year.
The stock options of the employees are expensed on the profit and loss of the company when the best. The options have a vesting period over multiple years, as such the amount does not reflect the cost of such options that are granted over the year.
It is important for Grover and others as he has been struggling with several legal cases that were brought upon the company over raising concerns of Rs 315 crore of ESOPs being granted to BharatPe.
In a letter to the board members and investors, he alleged that most of the ESOPs were given to four personnel of the company that includes Rajnish Kumar, Shashvat Nakrani, Suhail Sameer and Sumeet Singh.
The company recovered damages worth ₹88 crores in a lawsuit filed last year from Grover and his family for financial misappropriation.
In FY22, the company's revenue rose 284 per cent, while the net loss widened 3.5 times. According to moneycontrol, 85% loss was mainly due to changes in shares.
The company's expenditure on salaries and wages rose 116 per cent while advertising costs increased 535 per cent.