At the end of life we will not be judged by how many diplomas we have received, how much money we have made, how many great things we have done.
We will be judged by "I was hungry, and you gave me something to eat, I was naked and you clothed me. I was homeless, and you took me in."
-Mother Teresa
The Social Change Initiative
Bhavesh Sanghvi, Son of a renowned businessman and well-settled in life, was saturated with routine work-life. Bhavesh was not satisfied with what he was doing. Bhavesh always had a creative instinct within him and wanted to do something different. It was year 2011, and plenty of activities concerning social welfare were happening across the country including Jan Lokpal bill, Kudankulam Nuclear Power Plant and Mullaperiyar dam protests, 2G telecom, corruption in Commonwealth Games etc. Bhavesh was quite disturbed seeing these issues dominating headlines throughout the year. It was then, when Bhavesh decided to do something, and a noble thought occurred to him- "First, let's change ourselves and then change society". He quit his comfort to achieve what he has dreamt. He started to dedicate his time for social cause. Meanwhile, he was hunting for ways to effectively grab people's mind. During one of his busy days, he noticed that printed t-shirt are one of the fastest, easiest, inexpensive and most readily available solution to a part of his quest- He says "if you wear a plain t-shirt, no one gives any attention but if put on a printed one, though involuntarily people tend to read what is scribbled on it."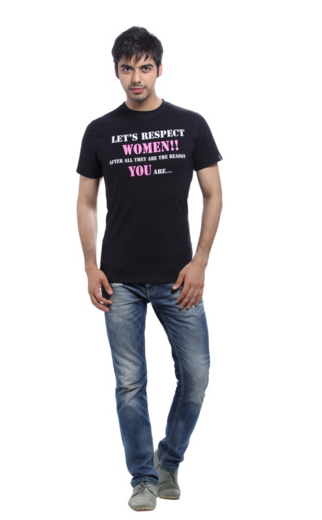 And that's how Bhashan, a t-shirt brand, was incepted. Bhavesh Sanghvi is Founder and Owner of Bhashan T-Shirts. Bhashan was founded by Bhavesh in December, 2011 and ever from its inception it is encouraging youth to 'wear the right words'. Bhashan T- shirts support's 'The Right to express what is wrong' and trying to address social issues such as child labour, education, corruption, terrorism, poverty, global warming, Indian economy and drugs through catchy taglines (One-Liners).
Bhavesh chose T-shirt as a medium to highlight social iniquities, move the youth towards driving positive changes in the nation and encourage them for social entrepreneurship.​
Ups and Downs
The venture led by Bhavesh was in full swing and by the end of year 2013, Bhashan was selling t-shirts via Snapdeal, Flipkart, Paytm, and Shopclues. It was also doing business via outlets and retail stores. During the promotion, Bhavesh took one area at a time, visited major retail stores personally and explained the retailers with concepts behind each of the t-shirt. So far, he has covered more than 350+ stores in Mumbai, Goa, Delhi, Baroda, Pune, Kolhapur, Rourkela, Indore, Ahmadabad, Belgaum, and Kolkata. He had opened his first flagship store in Matunga, Mumbai. He was also associating with Media, Celebrities, and Radio Stations. Ever since its inception, Bhashan has sold more than 50,000+ t-shirts.
However, Life is not always what you want it to be and you are compelled to make decisions against your will. In 2013, due to personal difficulties, Bhavesh had to discontinue with his initiative and move to Dubai. During his one year stay in Dubai, he felt the same urge to do something creative and meaningful until ultimately he decided to move back to India to continue with his initiative. In April 2015, he revamped his venture and started its operations again. Now, Bhavesh is devoting all his time to promotions and funding for the venture and get everything on the track yet again. Currently, Bhavesh operates from his house in Vasi, Mumbai but he would be inaugurating his new office in Vasi itself on the occasion of Diwali.
Motivations in disguise of Challenges
Food, Shelter and Cloths are basic necessities of a human. People will not stop consuming foods, start to live on open or stop to wear clothes. Bhavesh comments that the T-shirt industry is going to go on and witness no hamper to its growth. Moreover, today everything is going online and this would just enhance sales. However, this does not hint that there are no challenges.
Bhavesh says that everyone wants to bring change. Everyone wants to voice their opinion. But when it actually comes to do something to bring forth that change, no one stands up for it. It is a very popular belief that "What you wear depicts what you are". Similarly, if someone is buying a t-shirt with some thought printed on it, that implies he supports the same. Moreover, if the thought happens to be a social message- people are more apprehensive and hesitant to buy it. Even if someone wants to buy it but is skeptical, he/she ends-up buying something else which is fancier. This behavior by customers also prompts retailers not to accept these t-shirts so easily.
Another critical challenge in the industry is payment delays by retailers. Bhavesh says that most of the payments are delayed due to involvement of middleman in the transaction. Bhavesh tackles this difficulty by removing any need of third-party and takes care of entire process himself. Bhavesh acts as one man army- he does all the tasks himself including coming up with one-liners to promotion to sell to collection of the items. "I had everything anyone could wish for but I choose this over everything else as this gives me happiness. I am contented. When I actually use my creativity to bring about a change, I feel good about it. When I do something for society, I feel worth." Says Bhavesh.
Bhavesh utilizes 50% of the profit for betterment of society- education, provide equipments to physically handicapped ones, fill ration in houses where there is no support and others. He has been doing this noble deed ever on a regular basis, individually.
Currently, the venture is operating with freelancers. Bhavesh says that he has not maintained a core designing team as it would restrict design possibilities to particular designer. As of now, the company is having seven freelancers who do design.
Bhavesh's future plan is to come up with a shelter home for people who are mentally challenged, homeless. "I do not wish to be the cause to bring out the change around the world, I am contented even if I can get one person inspired by thoughts and affect many others in turn" says Bhavesh.
The GameChanger
Bhavesh belongs to the band of successful young entrepreneurs in India. Bhavesh Sanghavi sparked off his career at the raw age of 20, when he joined the customer service department of a BPO. Later, he joined his family business of Imports of PVC Flooring and handled close to 400 clients and 5 Manufacturing Companies.
He also won the Award for Being the Youngest Successful Entrepreneur in Flooring Industry and achieving the impossible numbers of sales at the age of 23 for 6 years.
After gaining major success in the field of sales and marketing, Bhavesh always wanted to do something that is challenging, interesting and makes a difference in people's lives on a daily basis. He chose concept driven T-shirt as a medium to spread social awareness.
Bhavesh also utilizes up to 50 percent of his profits for a social cause like sponsoring education of children from poor family, providing equipments to specially challenged people etc.
Comments
comments