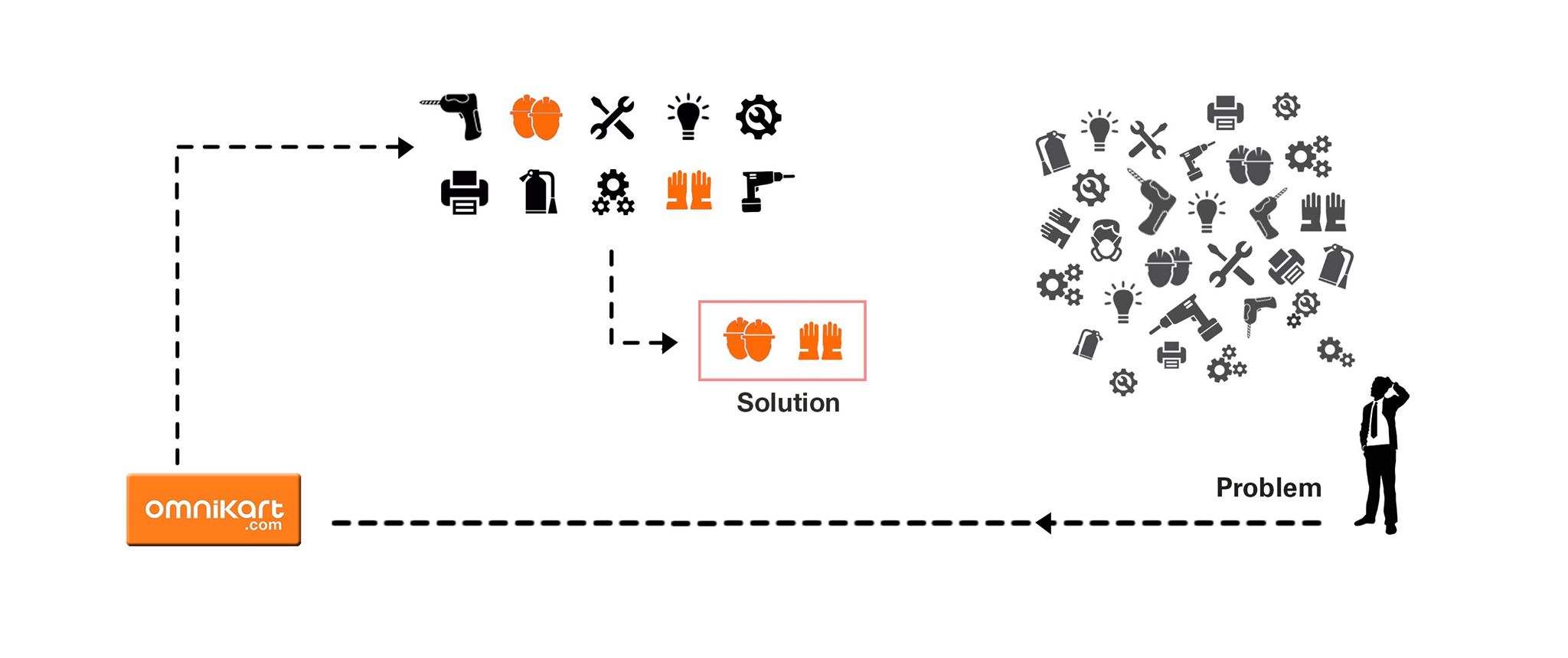 As we all know "Need is the mother of all invention", similar is the story with Omnikart.Started off when two students faced problems in sourcing products for their experiments in college, today it is the place for industrial and office supplies. It is a B2B startup that has brought itself into the limelight with their implementation success.
 The Idea
In lay man's language, Omnikart is an ecommerce portal like the rest; but it deals with only industrial and office supplies. The idea came when the founders had trouble getting equipment for their experiments in college. This triggered them to create a platform to ensure hassle free and transparent procurement. The founders started working on the product a year back in September 2014 and the website was launched in January 2015.
India has a lot of startups in the B2C e-commerce industry, but the B2B industry is still very young and un-organized compared to B2C.
For those of you who do not know here is the concept. B2C is shorthand for Business to Consumer, here the final customer is the consumer itself. Whereas B2B stands for Business to Business, here the products are sold to other businesses.
The founders did their fare share of research before going ahead with the Idea. They extensively studied the B2B industry segment in India and other countries as well. They found the problems persisting in India and started to work on a product to solve these problems.
Meet the Makers
The company was founded by three people, Faisal Ansari, Mandar Zope and Abhishek Shingane.
Faisal Ansari: He completed his graduation from IIT Bombay. He has worked with Housing for a while before founding Omnikart.
Mandar Zope: He is also a graduate from IIT Bombay. He has worked with Rolls Royce prior to Omnikart.
Abhishek Shingane: He is a graduate from Indian Institute of Space Science and Technology (IIST).
Team
Currently they have a team strength of 25 people. They have people from different backgrounds ranging from technology, logistics, manufacturing, marketing to business development. As of now they are hiring people for technology, business development and sales activities.
USP
"If you see all these ecommerce players they are working on standard products that can be used in all types of industries. These standard products constitute small part of over all companies budget and the rest goes to heavy machinery, application based products and customized goods, we are working on a model where we will help companies sell and procure and market these products as well," says Faisal Ansari.
The company's USP is that they are effectively dealing with the situation on the grass root level itself. They are dealing with distributors, educating them, telling them the importance of online business and eventually helping them. Due to this they have a lots of vendors willing to list their product on omnikart.com.
Dodging the competition
B2B sector in India is relatively new and in its nascent stage. As of now there are very few startup in this community, but now there are many startups trying to grab the huge opportunity. The two main competitors are tolexo.com and industrybuying.com.
According to Walmart study, India's B2B e-commerce market opportunity is currently valued at $300 billion, which is expected to expand to $700 billion by 2020. This clearly indicates that there is a lot of scope in this sector in India and from now on things are going to be on the rise.
Funding
The startup has already raised $100k in seed funding from angel investors. The investors are Sumit Gandhi and Manish Gandhi. They are also in touch with VCs to raise next round of funding (Series A). They have made this their priority for the next 6 months
 The Road Ahead and Achievements
The very next thing on their agenda is to raise Series A funding from the startup. Apart from this they are currently focusing on making the product better, which include, increasing number of products, enhancing brand visibility and expanding sales activities in other manufacturing destinations.
This will require a bigger team so a major proportion of this investment will be used for hiring talent in technology and business development department.
They have had many milestones along their way but there is one story that sums up what their vision actually is. They helped a student who has Prosthetic arm. She needed to get it repaired frequently from abroad, this was not only costly but time consuming also. When she approached them for repair and some equipment, they solved her problem in couple of days with minimum amount. She was very happy and satisfied.