Bill Gates purchased a $902 million share in Dutch producer Heineken while earlier declaring that he is "not a big beer drinker."
According to paperwork presented to the Netherlands' Financial Markets Authority on February 17, the billionaire purchased a 3.76 per cent share in Heineken Holding NV, the parent organisation of Heineken.
According to the document, he purchased 4.18 million shares through the Bill and Melinda Gates Foundation Trust and 6.65 million stocks directly from the beer company.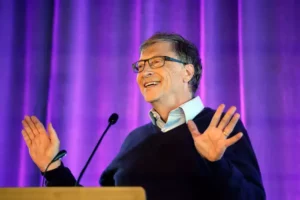 As of Friday's market close—the day of the transaction—Gates' investment amount was worth 848 million euros, or approximately $901.6 million.
The co-founder of Microsoft has previously admitted that he doesn't consume much beer. Gates was questioned about his favourite beer on an "Ask Me Anything" forum on Reddit in 2018.
"I am not a big beer drinker," Gates wrote in response to the question, adding that if he goes to baseball games, for example, he'll "drink light beer to get with the vibe of all the other beer drinkers."
The Bill & Melinda Gates Foundation, established decades earlier by the billionaire and his ex-wife, Melinda French Gates, funded research about the health consequences of alcohol drinking that was released last July.
According to the research, "stronger interventions" are necessary, particularly among younger individuals, in hopes of reducing the significant worldwide health loss caused by alcohol.
Insider's inquiry about the matter from the William & Melinda Gates Foundation was not answered immediately. But, the Microsoft co-founder has already made a beer firm investment.
Long before his Reddit thread and the healthcare study, in 2007, Gates invested $392 million in Femsa, which is amongst the biggest breweries in Mexico. According to a press statement from the firm, Femsa, the biggest Coca-Cola bottler, offered its brewery to Heineken in 2010 and is now divesting from the beer giant.
About The Bill & Melinda Gates Foundation:
A private American organisation established by Bill Gates and Melinda French Gates, the Bill & Melinda Gates Foundation (BMGF) is the outcome of the combination of the William H. Gates Foundation and the Gates Learning Foundation.
It was established in 2000 and has offices in Seattle, Washington. As of 2020, it is expected to be the second-largest philanthropic organisation in the world, with $49.8 billion worth of assets.
William Gates donated the organisation $1 billion on his 43rd birthday. Bill Gates, Melinda French Gates, Warren Buffett, CEO Mark Suzman, and Michael Larson are prominent charity figures.
The foundation's main goals are to advance healthcare, lessen absolute poverty internationally, and increase educational possibilities and access to information technology across the nation.