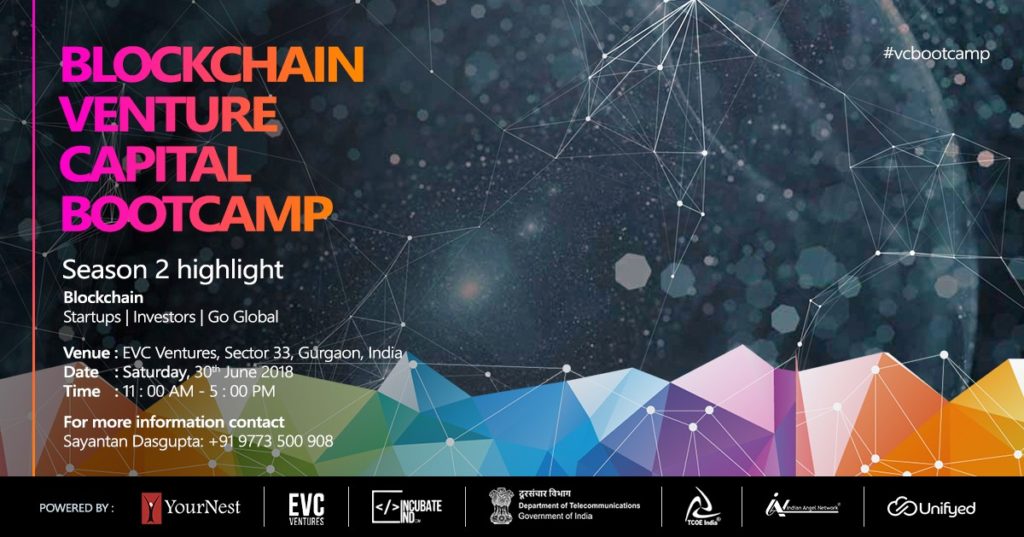 EVC Ventures Announces its Season 2 of Blockchain Venture Capital Bootcamp
After a successful Season 1 of 'Artificial Venture Capital Bootcamp', EVC Ventures, the Chicago-based Venture Capital fund is gearing up for its Season 2. For Season 1, it joined hands with Sequoia Capital and a few other folks like Businessworld, The Boston Consulting Group, YourNest VC Fund, IAN, etc. Coming next is the 'Blockchain Venture Capital Bootcamp' on the 30th June 2018.
Why VC Bootcamps?
The Chances of getting access to Venture Capital funding for an early-stage startups is about 1 in 1000. So, it is hardly surprising that every year many startups approach EVC Ventures to enquire about the best way to raise capital and boost their business growth.
Keeping this in mind, the leading global venture capital firm is coming up with a series of Bootcamps for Startups, wherein they will get an opportunity to showcase their business ideas, and can also get VC funding between $100,000 to $5 million.
This year, EVC Ventures is going to organize the Bootcamps for Startups working in the domain of Blockchain for a period of more than 12 Months. So, the theme of this season's Bootcamp will be 'Blockchain'.
Startups working in this domain with POC can come and present to set of VCs/Experts, who could provide helpful insights and assist them in accelerating their business growth. But only top 10 selected Blockchain startups will get the golden opportunity to make a bid to a group of jury/keynotes at the Bootcamp.
So, if you are an aspiring startup entrepreneur in the Blockchain domain and want to take your company to new heights, this camp may provide you both funding and insights from eminent business personalities. Here are the details of the upcoming 'Blockchain Venture Capital Bootcamp'.
Highlights of Blockchain Venture Capital Bootcamp
Early stage Blockchain startups will get a chance to –
Pitch their ideas to Lead Investors
Find Lead Investors through the competition- Get access to global Investors
Opportunity to have one-on-one interactions with Institutional and other Investors
Close funding with VCs & HNIs
Get VC connects and Customer connects
The top 10 Startups will get 10 minutes to present their ideas in a live pitch, and then there will be a Q&A session.
What Will be Discussed
Blockchain startups will get an opportunity to be a part of discussions that will cover the following topics –
Market Size
Monetization Model
USP & Competitors
Current Traction
Financial
Go-To-Market Strategies
Past Investments, if any
Valuation Percentage against Equity
 Eminent Keynote Speakers & Jury
1) Keynote: Shri R.K. Pathak (Deputy Director General (IC), Department of Telecommunication | Director, TCOE)
2) Keynote/Jury: Jay Khan (Managing Partner, EVC Ventures USA)
3) Keynote/Jury: Girish Shivani (Executive Director & Fund Manager, YourNest Venture Capital)
4) Keynote/Jury: Balaji Thiruvengadam (Chief Technology Officer, EVC Labs)
5) Jury: Sandro Stephen (Regional Head North India Operation, Indian Angel Network)
6) Jury: Vikas Banga (Head of Product, Fareportal | Ex-Associate Director, BCG | Ex VP, Snapdeal)
The following are the details of the events – .
Venue: EVC Ventures, Sector 33, Gurgaon, India
Date: Saturday, 30th June 2018
Time: 11 : 00 AM to 5 : 00 PM
Google Maps: https://goo.gl/maps/DvsankYHM8x
Applications open until 15th June 2018 (Only 10 Best Startups will be selected)
Startups can Apply Here: http://bit.ly/blockchainvcbootcamp
Attendees Get Your Early Bird Passes Here: http://go.eventshigh.com/blockchainvcbootcamp
Note: Limited to first 100 entries only. Get Your Passes Here: http://go.eventshigh.com/vcbootcamp
 For more information, you can contact:
Sayantan Dasgupta: 9773 500 908 | 9958 650 463
Email sayantan.dasgupta@evc.ventures
Comments
comments