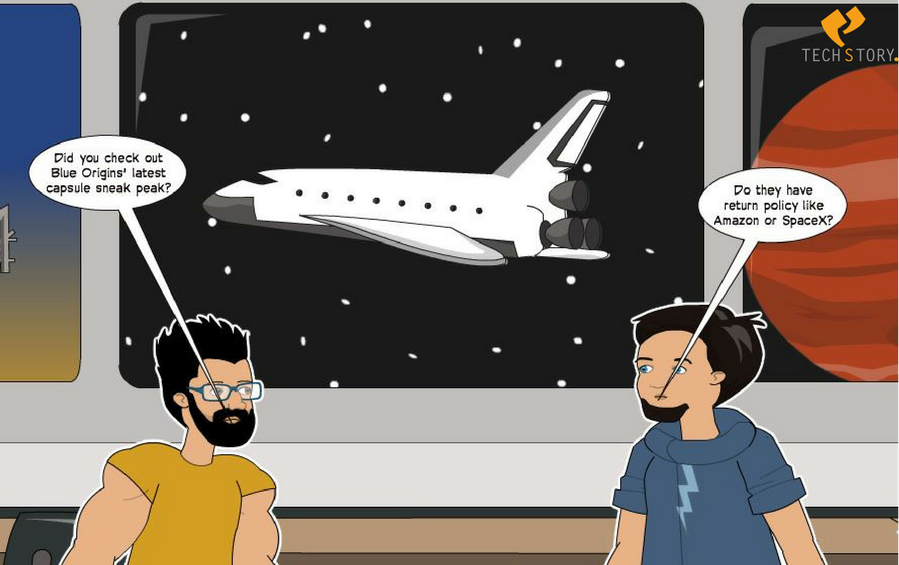 Shiv: Stevey! Gift me the brand new Samsung Galaxy S8 man! ? It looks fab and costs 'just' Rs 65,000! ??
Steve: 'just' 65,000 ?.. At the rate these smartphones are selling these days, people might have to do only window shopping even in Amazon.. ?  Speaking of windows and Amazon, did you check that Jeff is closing in on Bill Gates these days? No wonder if all he's doing for his employees is offering 2 pizzas.. ??
Shiv: Yeah man just Rs 65,000! Cmon?! Not a big deal for you ? I'll make a Facebook story of it! You'll be famous! ? My bet is on Bezos to top the Richest Men's list next year!
Steve: Facebook story ? Zuckerberg is bombarding copy cats everywhere with a mission to bore people of Snapchat stories.. If he keeps doing that Evan Spiegel might have to be replaced even from the bottom position of Richest Men's list and layoff major part of his workforce.. ?
Shiv: Will he still have Miranda Kerr? ?? Man! I read companies are laying off employees- First Cognizant and now HSBC! See that's why our startup will the best place to work at! No obscene behavior, No layoffs! Everybody will want to work with #ShivandSteve! ?
Steve: On one end there is layoff in IT companies, banks, etc and on the other end people are leaving jobs from Uber and Google to join startups or startup on their own.. ? who is going to save their jobs after everything is intervened by AI or automated? ?
Shiv: You're scaring me ☹Although I like that Elon Musk guy, this Neuralink- wayyyy above my head! ?
Steve: Haha, he was in transcendence movie, now he wants to do the same.. ? next what open invite aliens because of Mars Mission and gear up Iron Man suite?? ?
Shiv: Meanwhile, his fierce rival Jeff Bezos gearing up for his Space Tourism mission! ? Did you see SpaceX massive success in reusing an old rocket?
Steve:  Well, we already know that Amazon has a 30 day return policy, it is only a small time before Blue Origins does the same! ?
Gradatim Ferociter!
(Disclaimer: This is a funny (okay, not so funny) take on what happened in the technology and startup space. The conversation is purely fictional and does not reflect any personal opinion. For more such round ups on the latest happenings in the startup space, check out TechStory every Sunday)